Travel with Kids to Costa Rica – Our Tips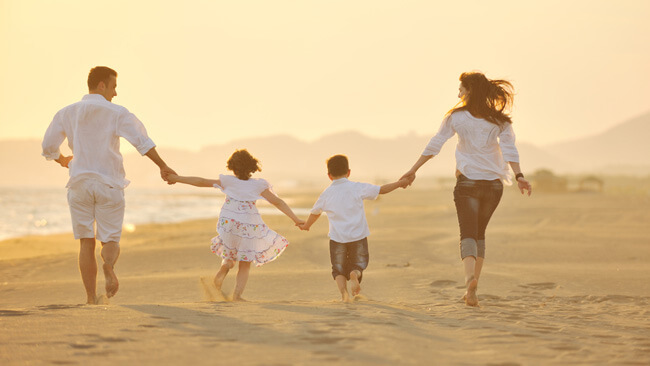 Travel with kids to Costa Rica can be tough. There's a lot of planning and strategizing you need to do. And if you're anything like us, the planning phase is never complete without some crossed fingers and whispered promises to be a better person, if all goes well.
But let's face it: the logistics of family travel are not easy to plan. Flights are long, ears pop painfully, and active kids are expected to stay still. Car rides go hand-in-hand with stir-craziness, too. And you have to share a room, often with kids who have different bedtimes. Not to mention, you must plan your adventures around snack time, bedtime, nap time, and wake-up time. Nothing is familiar and your kids always seem to bounce off the walls.
Even the most angelic and laidback children have bad travel days. Feisty kids can pose an even greater challenge. And when you have more than one child, suddenly your arms are outnumbered and the airport or beach can resemble an obstacle course.
We get it. We have kids of our own, so we've walked in your shoes. (All throughout Costa Rica, to boot!) The thought of air travel and car travel and paper-thin hotel walls has you feeling a little stressed. (No? Fine, a lot stressed.) Because let's be honest: It would probably be easier to get a herd of African elephants to dance the Christmas Nutcracker than it is to travel with kids (especially young ones).
That's where we come in. With a bit of preparation – plus a dose of good cheer and a heaping of luck – our tips on traveling with kids will take you round-trip from home to Costa Rica and back again. And what an amazing trip it will be!
1. Book in Advance
Spontaneity is an exciting way to travel, but it's best left to solo or adults-only vacations. After a long day on the road, you don't want to arrive to a town with no hotel vacancies. If you promise your kids the turtle-watching tour of a lifetime, don't discover that you're visiting during the off-season. When it comes to kids and happy traveling, it's better to book and plan well ahead of time.
2. Take Your Time
We don't have control over every aspect of traveling – delays and traffic and missed connections happen. But in our experience, the absolute best gift you can give your traveling family is time. Don't choose flights with a 45-minute layover or takeoffs so early, you'll never get out the door in time. If possible, fly out of the closest airport – not the cheapest one that's five hours (and many possible traffic jams) away.
Once you've made it to Costa Rica, don't pack so many tours and attractions onto the itinerary that you can't enjoy the moment. Kids, especially younger ones, are all about the journey, not the destination. They want to touch every rock and inspect every inch of fungus. Make sure you have the time to let kids travel like kids.
3. Pack Important (I'll-scream-if-I-don't-have-them) Items
I know, the traditional packing advice is to pack lightly. That still holds true, except for those important and oh-so-necessary inclusions. Parents, you know what I'm talking about – all those items that, if absent, will cause an absolute fit. This could be a special blankie, but also includes to a favorite book, a preferred snack food, or the only song that will get your child to sleep.
This guideline also extends to brand-name goods. Many areas of Costa Rica are very modern, with stores and supermarkets that carry imported goods. Even so, you won't find the same variety or quantity that you probably would back home. So if there's only one diaper brand that prevents your child's rash, or your toddler will only eat one specific kind of cheesy cracker, bring enough for the whole trip. (Or verify with your travel consultant, in advance, that a particular brand is available here.)
4. Save Other Items to Buy Locally
On the flip side, you can leave most non-essentials at home. For example, there are dozens of new cookies, crackers and other snacks to discover in any supermarket. Diapers, even swim diapers and pull-ups, can be found almost everywhere. Baby wipes, antibacterial gel, sippy cups, coloring books – these things are all readily available throughout Costa Rica, so save yourself the packing space.
5. Don't Forget the Meds
If your children are on any type of medication – prescription or OTC – pack it. Even with over-the-counter medications, you may not be able to find your preferred brand locally.
6. Ready an Activity Bag
Create an activity bag that your children can take on the airplane, on the shuttle bus, or in the backseat of your rental car. We've found that it helps to mix in standby favorites – say, a busy book for toddlers or handheld game system for the older set – with new diversions. (Pinterest has an incredible wealth of busy bag/activity bag ideas, if you're stuck.) Bonus points for throwing in Costa Rica-themed activities, like a rainforest search-and-find, a beachy tablet app, or anything that will connect your kids to the sights and sounds around them.
7. Pack the Tablet
Even if you avoid extended screen time at home, traveling can be the perfect time to bend the rules. Download some age-appropriate apps, load up the tablet with a few movies/videos, and let your children veg out during a long car ride or airport layover. Your sanity will thank you.
8. Take the Carseat/Booster Seat
Due to carseat safety, your children's heights and weights, and other factors, it's best to take your own carseats and booster seats. You can install them in shared shuttles, private transport, rental cars and even taxis. Public buses and small airplanes do not require carseats.
9. Be Prepared for Costa Rican Weather
I know this sounds obvious, but pack weather-appropriate clothes. (Being too cold or too hot can cause serious crankiness.) If you'll be traveling to higher elevations, like the Monteverde Cloud Forest, be sure to bring warm layers and cozy pajamas.
10. Choose the Right Hotels
There are hundreds of kid friendly Costa Rican hotels, B&Bs and boutique inns that could make your family happy, but the right few will feel like the perfect match. Talk to your travel consultant about your individual needs and preferences: Do you need a crib or extra twin in the room? Or perhaps you require a hotel restaurant with a dynamite kid's menu? Or maybe you'd like to bunk somewhere that has a shallow children's pool? Costa Rica has all that; all you have to do is ask.
11. Involve Your Kids in Planning
One of the best parts of kid-friendly travel is the pre-planning. Take some time to tell your kids about where you're going. Set the scene: let them know that they'll see monkeys or that the beach will be right outside their hotel room door. Get them excited about everything you'll see and experience.
Then, it's time to get planning. Give your kids the chance to pick at least one activity – totally their choice. (If this is a little too intimidating, let them choose from a parent-approved list.) There are so many choices for family fun, including hanging bridges, safari river floats, kayaking, canopy zip lines, waterfall horseback rides, sailboat and catamaran boat tours, volcano walks, thermal hot springs, snorkeling, dolphin watching, and wildlife sightings at Costa Rica's diverse national parks and wildlife refuges.
And my Number One tip when trip planning: Make sure to pick tours that will wear them out. Whether it's exhilarating zip-lines or whitewater rafting, a full day of please-touch activities or long (but interesting) hikes, choose tours they'll love until they beg for bedtime.
12. Embrace a Routine
Children thrive on routine. When you're traveling, that routine is often thrown out-of-whack  – and kids often get cranky and irritable as a result. Try to plan around your children's regular bedtimes, meal times, nap times, and other important routines from home.
Most planned tours have morning and afternoon departures, so it's usually easy to pick a time that works for your whole family. If hotel check-in and check-out times could cause problems, ask your travel agent to request early check-in or late check-out when you make your reservations. Scout special restaurants in advance, as many have fixed schedules that open late or close early.
13. Relax
Costa Rica is kid friendly. No, really. Costa Ricans have seemingly infinite patience with screaming, mayhem and other kiddie antics. Instead of sidelong (and grumpy) glances, your fussy child garners understanding smiles and the occasional offering of help. Breastfeeding is generally accepted in public spaces. (And bottle-feeding won't get you a judgemental glare, either.) Every town in Costa Rica has a large central park, where children run and laugh, kick balls and climb trees.
Remember, you're in paradise –  a kid-friendly and adventurous paradise. Costa Rica is the perfect choice for traveling with kids, from the youngest infants to surly teenegers and beyond. So take a deep breath, relax and enjoy your vacation.