Traditional Costa Rican Food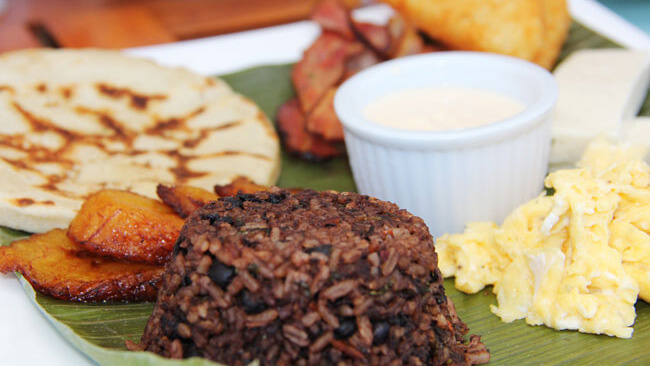 Costa Rican food is a flavorful delight: savory but not spicy – except in the Caribbean, where habañero peppers add pep to favorite dishes. But whether you love spice or can't stand the heat, there's no question that Costa Rica's traditional fare is downright delicious.
Tropical fruits and vegetables decorate the plate at every meal. Seafood is fresh. Chicken is usually free-range, and beef is grass-fed. Family-run sodas, or diners, offer up heaping portions at unbelievable prices. Bar food offers up a Latin version of deep-fried comfort. And the nation's upscale restaurants offer Costa Rica's version of tropical fusion.
A Costa Rican vacation is incomplete without thoroughly sampling some of the nation's most customary dishes, so here's a quick rundown of Costa Rica's traditional foods. Which are you just salivating to try?
Casado: This dish, named for the "married men" it traditionally fed, is an inexpensive-but-filling staple at sodas. Choose your protein – beef, chicken, fish, pork, eggs and cheese are usually available – to combine with the days side dishes, which often include green salad, cabbage salad, picadillos, beans, and fried sweet plantains.
Ceviche: This fresh fish dish (say that three times fast!) is most common in seaside towns, but you can find it throughout Costa Rica. Raw fish is marinated in sour lemon or lime juice to "cook" the meat, and served with a savory combination of onion, sweet pepper and cilantro.
Chicharrones: These fried pork cracklings are nothing like you'd find in a bag – or on a traditional Mexican plate. Thick, juicy hunks of pork are deep fried to produce this crispy – and ultra-meaty – bar standby.
Chifrijo: The Costa Rican version of seven-layer salad (or seriously supreme nachos), chifrijo is a splurge-worthy bar favorite that layers chicharrones, tomato salsa, and beans over white rice, usually served with a slice of lime and serving of fried yucca.
Chorreadas: These hot, sweet corn cakes are baked on a griddle and topped with natilla, Costa Rica's sweeter version of sour cream.
Empanadas: Empanadas are like deep-fried sandwiches, packing meaty fillers, like beef or chicken, into corn pastry before deep-frying it to golden, crispy goodness.
Fresh Fruit: Of Costa Rica's traditional foods, fruit is easily the cheapest and most exciting to sample. Head to any feria, or farmer's market, and you'll be wowed by the kaleidoscopic choices before you: familiar favorites, like mango, pineapple, papaya, and strawberries, are joined by soursop, water apples, passion fruit, dragon fruit, sour guava, and other tempting produce.
Gallo Pinto: A Costa Rican's greatest praise is simply, "You're more Costa Rican than gallo pinto." The unofficial national dish, savory gallo pinto is a delicious blend of onions, sweet peppers, cilantro, black beans and rice, topped with salsa Lizano, a zesty sauce. And despite what you may expect, gallo pinto is served at breakfast, not lunch or dinner!
Gallos: Not to be confused with gallo pinto, gallos are a bit like Costa Rican tapas: take a dollop of picadillo (see below), add it to a corn tortilla, wrap and gobble down. Delicious and affordable, at $1-$2 each!
Granizado: Super sweet and absolutely delicious, granizados are like Costa Rican snowcones, only served in a plastic cup. Choose your favorite flavor: tutti frutti, root beer, or grape.
Naturales and Batidos: If you love fruit, you're going to love Costa Rica's fruit drinks! Available in every restaurant, naturales are generally mixed with water, and batidos with milk. Both are delicious.
Pan de Elote: Costa Rica's sweet corn bread, or pan de elote, is pure comfort – and very filling. Despite its name, you should know that this traditional favorite has neither the taste nor texture of the cornbread you're used to.
Patacones: Green (unripe) plantains are mashed and formed into pancakes, then deep-fried, to create this Costa Rican appetizer. Patacones are usually served with beans or pico de gallo, but can become a complete meal when topped with shredded beef, beans and cheese.
Picadillo: Picadillos are the Costa Rican version of succotash: chopped, cooked vegetables (usually squash or potatoes), served as a side dish.
Pipa: Coconut water has been a hit in Costa Rica for just about ever. Pipas are green coconuts, thoroughly chilled before having their tops sliced off and straws inserted for immediate enjoyment.
Rice and Beans: Don't mistake gallo pinto for rice and beans: though both are made with rice and beans, the latter is a Caribbean staple made with red beans, rice, coconut milk and a generous touch of habañero pepper.
Rondón: This delicious stew is an absolute must-eat for any visitor to Costa Rica's Caribbean. Crafted from a mix of seafood, fish, and available produce, rondón is simmered in coconut milk and spices for 24+ hours before enjoyment.
Tamales: A Costa Rican Christmas special, tamales are made primarily of seasoned fine cornmeal, topped with pork, carrots, and other additions. Every family has its own special recipe.
Yuquitas: A tropical version of French fries, yuquitas are thick, fried slices of yucca.
comments powered by

Disqus