Top Costa Rican Souvenirs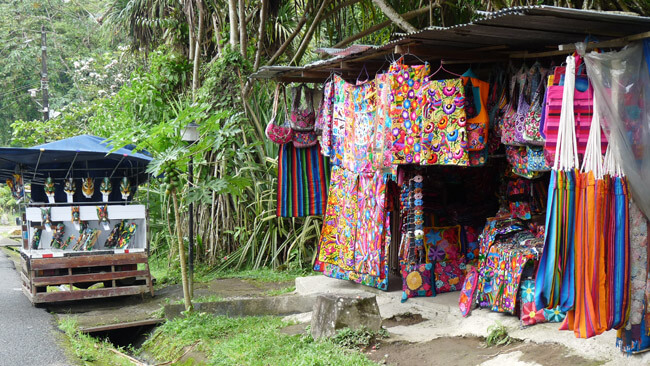 Your vacation days in Costa Rica are going smoothly and carefree so far, you are enjoying amazing nature and wildlife, as much as friendly Costa Rican culture, and you'd like to bring a piece of it with you to share with your friends and family. What are your best options? There's no way of going wrong with these when coming back home from Costa Rica. This list of top Costa Rican souvenirs has something for everyone on your list.
1. Ox-carts
These colorful ox-carts originated in the region of Sarchí and have become the international symbol of Costa Rica. Often painted in red and featuring bright details in blue, yellow, green and similar hues, artisans take special delight in creating miniature versions of these which people take home after a visit to the country.
2. Coffee in natural fiber bags
Costa Rican coffee is notoriously flavorful and a clever way to take it home is buying it in bags made out of natural fiber which often have colorful motifs like landscapes, butterflies or hummingbirds. These bags make a perfect gift, especially when you open your suitcase back home and your house becomes infused with the aroma of fresh coffee.
3. Hammocks and woven goods
Colorful hammocks and hand woven seats are popular in all Costa Rican souvenir markets. They are usually sold for low prices and are made out of all-natural fibers which makes them an eco-friendly present as well. The variety of hues make them great conversation starters when they're hanging back on your terrace back home.
4. Imperial merchandise
You don't even have to like beer to like all the swag featuring Costa Rican's ale of choice. The logo featuring imperial eagles and crowns recalls ancient European coats of arms and you will find it plastered all over t-shirts, hoodies, keychains and hats.
5. "Pura Vida" souvenirs
The national slogan can be found on every sort of product imaginable. From colorful shirts, to tye-dyed pants, from keychains to mousepads and pens, you can't go wrong buying your friends and family "pura vida" souvenirs. Other popular uses for the '¡Pura vida! phrase include placing it with more known worldwide icons, creating postmodernist pieces that will put a smile on your face.
comments powered by

Disqus