Tenorio Volcano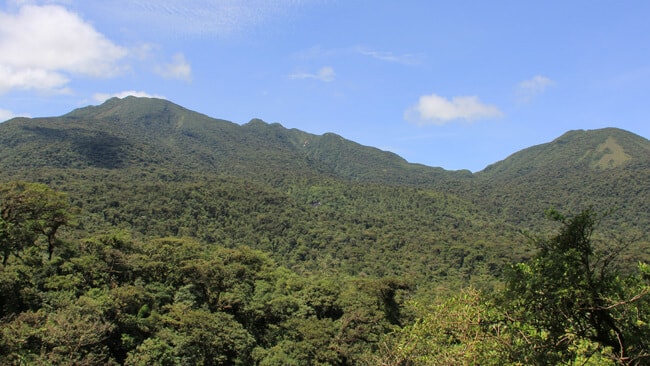 Tenorio Volcano at a Glance
Ideal time to visit:
The best time to visit Tenorio Volcano is during the dry season between December and April.
Nearby Activities:
Hiking Rio Celeste trails
Horseback Riding
Thermal Springs
Bird watching
Nearby Attractions:
Tenorio Volcano National Park
Rio Celeste Waterfall
Fast Facts About Tenorio Volcano
Region: Arenal & Nothern Lowlands
Closest Town: Tierras Morenas, approximately 2 miles from park entrance
Altitude: 6,286 feet (1,913meters) at highest point
Closest Airports: Liberia International Airport, La Fortuna airstrip
Average Temperature: 75° Fahrenheit (23° Celsius)
The Tenorio Volcano National Park is part of the Arenal Tilaran Conservation Area, about 26 kilometers away from La Fortuna, in the province of Guanacaste. The Tenorio Volcano really consists of four volcanic peaks and its summit reaches 1913 meters .The Rio Celeste is maybe what especially attracts people to this area; Because of the emanation of the sulfur of the volcano and some calcium carbonate precipitation, this river is indeed sky blue thus its name Rio Celeste meaning Blue River. Hot Springs, small geysers, streams, waterfalls and lagoons are plentiful in this inspiring area, with scenic panoramic views and rich lush primary and secondary rain and cloud forests.
Visitors can reach the Rio Celeste through Gatuso that is about one hour's drive from La Fortuna. When visitors reach the little River Celeste, they are taken aback; as it twists, rolls and crashes through the verdant rainforest it is sometimes hard to believe how creative Nature is and yet, it is the master original creator! The further you go upstream along the path, the deeper the blue, outstanding against the green lush vegetation.
The Tenorio Volcano stands majestically above its surrounding; Tenorio was only recently added to the park for its blend of unique flora and fauna and volcanic peaks, boiling hot springs and geysers. The summit of this dormant volcano can be reached through the Lago las Dantas Trail, that starts at the base of the volcano through the dense and magical cloud forest. Volcano Miravalles, the sister of Tenorio, is the highest peak in the mountainous chain of Guanacaste, with 2028 meters high. It is a protected area too for its tropical vegetation and geological activities; sulfur springs, bubbling mud pools and steam spewing fishers are dotted all around; the Centro Turisitico Yoko, located at the base of the volcano, is where you go for soaking in the hot springs and soothing whirlpool spas.
There is a Ranger Station at the foot of the volcano that can help with information on tours in the area. Basic Lodgings can be found in the village of Bijagua, where local also offer horseback riding tours.
Wildlife & Nature
There is an abundance of wildlife, including the very rare Pumas, Ocelots, Jaguars and Tapirs. Monkeys, sloths, and tropical birds are quite common and you will see plenty of those on one of the trails as you explore the area.
Best Time to Visit
Although the park is temperate during the rainy season, heavy precipitation can make some of the park's hiking trails difficult, if not impassable. As such, it's best to visit this stunning national park between December and April.
---
Services & Infrastructure Near Tenorio Volcano
Public transportation: No
Public restrooms: Yes, at ranger station
Shopping: None
ATMs: No
Gas stations: No, nearest fuel station is in Tierras Morenas, approximately 2 miles from park
Cell Phone Reception: Poor
Restaurants: None
Nearest medical facilities: First aid at ranger station, nearest medical facility is Hospital Clínica Tilarán, approximately 6 miles from park in Tilarán.