Tenorio National Park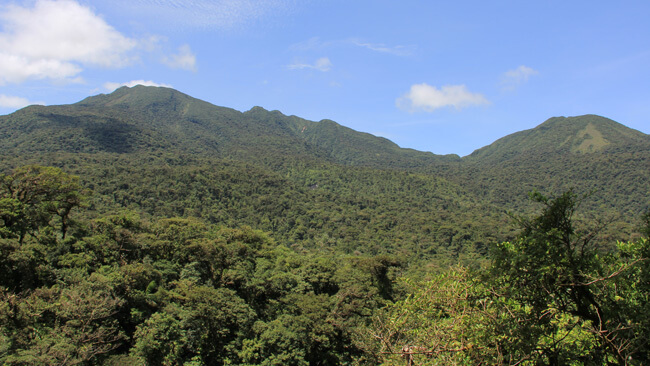 Tenorio National Park at a Glance
Ideal time to visit:
The best time to visit Tenorio National Park is during the dry season between December and April.
Nearby Activities:
Tenorio Volcano Hiking Tours

Birdwatching
Nearby Attractions:
Tenorio Volcano

Rio Celeste Waterfall

Rio Celeste Hotsprings
Special Features:
Home to the mighty Tenorio Volcano and the baby blue Rio Celeste (Sky-Blue River), this national park is a paradise for nature lovers and hikers.
Fast Facts About Tenorio National Park
Region: Arenal & Nothern Lowlands
Closest Town: Tierras Morenas, approximately 2 miles from park; Daytrips out of Arenal (75 minutes)
Altitude: 6,286 feet (1,915 meters) at highest point
Closest Airports: Liberia International Airport, La Fortuna airstrip
Average Temperature: 75° Fahrenheit (23° Celsius)
Tenorio National Park boasts some of the most breathtaking scenery in Costa Rica. Home to the Rio Celeste and not one, but two volcanoes, Tenorio National Park is as idyllic as it is unique. The park is particularly popular with tourists, many of whom come to see for themselves the strikingly blue waters of the Rio Celeste. Natural sulfur deposits in the river combine with calcium carbonates to give the waters of the Rio Celeste a light blue color, a rare phenomenon seen in few places around the world. The river runs alongside one of the park's main hiking trails, so wherever visitors find themselves in this sprawling nature reserve, the azure waters of the Rio Celeste are never far away.
Activities & Things to Do
The Rio Celeste itself winds through the dense vegetation of the park, culminating in a spectacular lagoon with a waterfall. During the height of the dry season, the water is perfect for swimming, so travelers hiking through the lush forests of the park can cool off for a while in this tranquil lagoon before resuming their hike. Tenorio National Park also varies widely in elevation, with some hiking trails reaching heights of almost 2,300 feet, offering spectacular views of volcanic rock formations, isolated pools and basins, and the vast expanses of rainforest. However, the terrain on some of these trails can be quite challenging and steep in some places, and even experienced hikers may find it takes up to six hours to navigate the route.
Tenorio National Park is also known for its hot springs. These pools of water are heated by the boiling volcanic magma deep underground. Although some of the hot springs are temperate enough to bathe in, others can be hot enough to scald, so be careful if you plan on taking a dip.
Wildlife & Nature
Much of the reserve is covered in dense cloud forest, making it an ideal destination for visitors who want to explore the fascinating depths of the Costa Rican countryside. Tenorio National Park is also home to some of the country's most exotic plants and animals. Baird's tapirs, one of Costa Rica's rarest and most endangered creatures, are known to congregate around the waters of Tapir Lake. Spider monkeys, another of the country's most elusive animals, can also be found in Tenorio National Park, as well as pumas and ocelots.
Best Time to Visit
Although the park is temperate during the rainy season, heavy precipitation can make some of the park's hiking trails difficult, if not impassable. As such, it's best to visit this stunning national park between December and April.
---
Services & Infrastructure in Tenorio National Park
Public transportation: No
Public restrooms: Yes, at ranger station
Shopping: None
ATMs: No
Gas stations: No, nearest fuel station is in Tierras Morenas, approximately 2 miles from park
Cell Phone Reception: Poor
Restaurants: None
Nearest medical facilities: First aid at ranger station, nearest medical facility is Hospital Clínica Tilarán, approximately 6 miles from park in Tilarán.