Taxis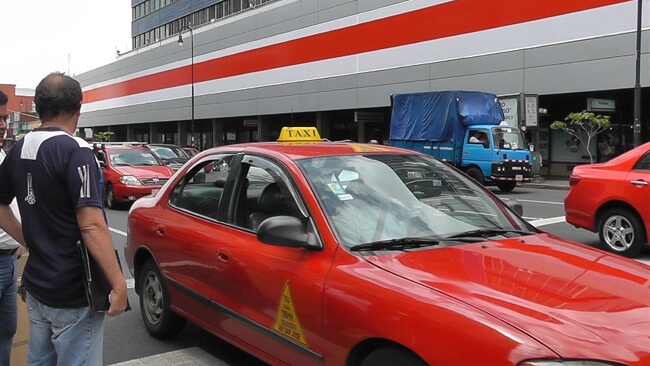 Taxis are one of the most affordable and convenient ways to get around in Costa Rica. Whether you're heading from one side of San Jose to the other or embarking on a longer journey to a destination further afield, cabs are the perfect way to get from A to B. However, before you jump in a taxi and get your Costa Rican vacation started, there are a few things you should know.
Only hire authorized cabs
One of the most important things to remember when taking a taxi in Costa Rica is to only hire licensed, authorized cabs. Affectionately known as "rojos" due to their cherry-red color, these taxis are easily identifiable and can be flagged down as you would anywhere else. However, in some parts of the country, illegal taxis, popularly known as 'piratas', can often be mistaken for an authorized cab, as their drivers make every attempt to appear legitimate. The easiest way to differentiate between a genuine and illegal taxi is to look for the yellow triangle on the vehicle's doors. Even though they might be a little cheaper, don't be tempted to take an illegal cab – stick to the authorized taxis.
Keep the meter running
In Costa Rican taxis, the meter is known as the "Maria," and this device is usually mounted on the vehicle's dashboard. Before setting off on your journey, ensure that the Maria is turned on, as this can eliminate the possibility that you'll be overcharged for your trip. To request that the driver turn on the meter before you hit the road, simply gesture at the Maria and say "Puede por favor poner la Maria," which means "Can you please turn on the meter?" Most drivers will not take offense to this request, and it helps keep everything straightforward in terms of what you can expect to pay. In terms of rates, most cabs charge around $1 for every two-thirds of a mile traveled or so, making taxis a remarkably cost-effective way of getting around.
Alternatively, for longer journeys, agree on a specific rate before you set off. For example, a trip from San Jose to Manuel Antonio National Park costs around $200, so wherever you're planning to go, be sure everyone's on the same page with regard to how much the journey will cost. If you're not sure about how to figure this out, the concierge at your hotel will be able to help you.
Tipping is not expected but the little extra money is always welcome. Avoid using big bills, as drivers don't have a lot of change with them and are reluctant to take anything larger than $20 US dollar bill.
Call the right type of cab
Regulations for Costa Rican taxis can seem a little strange to some visitors. For example, the "rojos" are not licensed to pick passengers up at the country's airports, but they can drop them off. If you need a ride to your hotel after landing in Costa Rica, you'll need an orange cab, which operate under cooperatives between private companies and the Costa Rican government. These cabs are only licensed to transport passengers to and from the airport, so when you arrive, don't waste time calling or trying to flag down a red taxi – they won't be able to pick you up.
Another type of private transfer you might encounter during your trip to Costa Rica is "porteadores." These are licensed, legal taxis that are privately owned, and as such can be any color and will not bear the yellow triangle that the 'rojos' have. These cabs are perfectly safe, but they can only pick up passengers from either hotels or private residences. The driver's permit will usually be displayed in plain sight where passengers can see it, and their prices are similar to those of authorized red taxis.
List of Taxi Services in San Jose's wider area:
Taxis Alfaro: 2221-8466
La Guaria: 2227-9300
Coopetico: 2224-7979
Coopetaxi: 2235-9966
Taxi San Jorge: 2221-3434
Taxis Unidos del Aeropuerto: 2221-6865