Semana Santa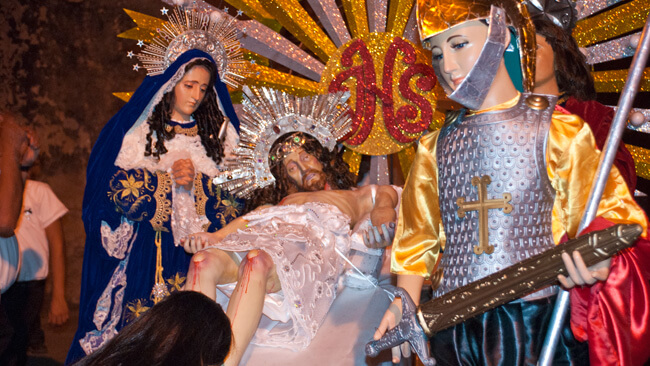 Semana Santa, or Easter Holy Week, is a major Catholic holiday celebrated all over the world and Costa Rica is no exception. Traditions run deep during for Ticos (Costa Ricans) in this special week, and everyone enjoys their much anticipated time off work.
If you come to Costa Rica for a family vacation just before Easter, you will witness a week long celebration consisting of parades, religious processions & mini-festivals during 'Semana Santa'. The actual holiday during this week is celebrated on Thursday and Friday before Easter Sunday. Most Costa Ricans have at least those two days off during this week; however, many enjoy taking the entire week off to spend time with their families and friends. Banks and businesses will also be closed Thursday and Friday, and public transportation is limited. In the tourism industry, everything runs as normal since this is a very popular time for people to visit Costa Rica.
During this festive week, many Ticos head for the beaches to enjoy some sun and relaxation with their loved ones. If they aren't at the beach, they're relaxing at home, making traditional food for friends, families and neighbors. Since many religious followers fast during this week (or at least on Good Friday), they make wonderful homemade tamales and enjoy more seafood than usual.
One tradition during Semana Santa that everyone is well aware of is that alcohol is not sold from midnight on Ash Wednesday until midnight on Good Friday in most of the country. If you didn't stock up on your favorite alcohol before Thursday, it will be hard to find many stores willing to sell it to you, especially of you're vacationing in a less touristy area. It is actually against the law to sell or serve alcohol on Thursday and Friday during this week, so most Ticos make sure to stock up during the week, before all the liquor is locked up. In 2013, the state allowed some cantons to make their own decision about selling the alcohol, so we might see this tradition fade away soon. But in the meantime, if you are traveling to Costa Rica during Semana Santa, you should keep this in mind, and don't be surprised if you aren't able to order your favorite cocktail or beer with dinner during those two days.
comments powered by

Disqus