Rainforest Weather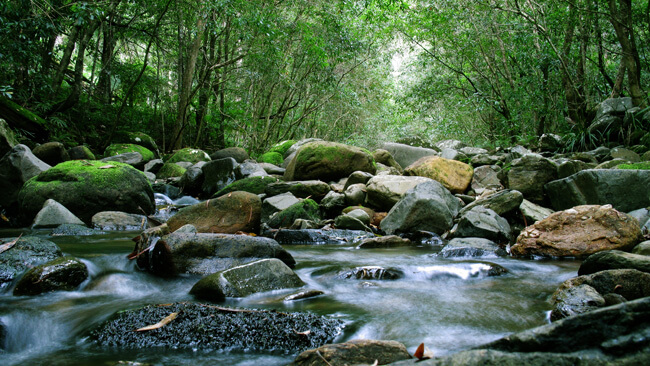 Costa Rica is famous for its dense rainforests. These magnificent jungles cover much of the country and are home to an amazing array of exotic plant and animal life. As their name implies, these forests can get a little damp, but you might be surprised by how much the weather and climate of Costa Rica's rainforests can vary.
Regional variances
Many different parts of Costa Rica have rainforests, but the climates of each forest can vary depending on where it is located. For example, the Central Pacific region that encompasses Manuel Antonio, Jaco and Puntarenas is known for its high temperatures and humidity however under the canopy of the rainforests in these areas temperatures are often much cooler than those found in the Northern Pacific Coast. The reason for these differences is largely due to variations in elevation, as higher altitudes in the mountains of the central Pacific are often accompanied by lower temperatures. In addition the central Pacific region where the true rainforests really start, the forest of the North are typically classified as tropical dry forests.
Rainforests differ from cloud forests by elevation, as cloud forests are found in cooler-climate of Central Mountain region, above 4500 ft (1500 m). Some of Costa Rica's rainforests can receive between 80 and 260 inches of rain every year, and while temperatures can exceed 100 degrees Fahrenheit (37 degrees Celsius) in the daytime during the height of the dry season, the mercury can fall to the low 60s (around 15 degrees Celsius) at night.
Time of year
Although Costa Rica enjoys a temperate climate year-round, the timing of your visit will have a significant impact on the weather you're likely to experience in the country's rainforests.
For most parts of the country, the dry season runs between December and April. While Costa Rica has a clearly defined rainy (or green) season, that doesn't mean you won't see some heavy rainfall during the dry season. Costa Rica's Caribbean Coast often experiences strong storms that form over the Atlantic Ocean year-round, resulting in heavy rainfall. This, of course, provides the lush vegetation of the rainforest on the eastern slopes of the Central Mountain range , but it also means you should be prepared for a wide range of climate conditions in this area.
If you plan to visit Costa Rica's rainforests during the dry season, wear comfortable, loose-fitting clothing, preferably made from a lightweight material such as linen. Temperatures can soar in the dry season, making the rainforests very hot and humid, so plan to dress accordingly. Conversely, if you're coming to Costa Rica during the rainy season, bring a light, waterproof jacket and long pants, not so much for the temperatures as they stay the same as in the dry season; but early afternoon showers are very common and although they don't last for long, rain could surprise out of the blue skys.
Rainforest essentials
Regardless of when you choose to spend time in Costa Rica's stunning rainforests, there are a few things you'll want to bring with you to ensure you have an unforgettable trip.
The first is insect repellent. Costa Rica is home to an incredible variety of bugs, including some bothersome pests like mosquitoes. Applying a moisture-resistant insect repellent before venturing into the heart of the Costa Rican rainforest is a great way to ensure that the bugs leave you alone.
Another essential when spending time in the rainforest is water. Costa Rica's national parks and wildlife reserves are among the most beautiful places on Earth, but many of them are highly isolated, and the nearest services may be many miles away. Bring bottled water with you when spending time in the rainforest, particularly if you plan on engaging in potentially strenuous physical activities like hiking – the last thing you want is to end up dehydrated!
comments powered by

Disqus