Puntarenas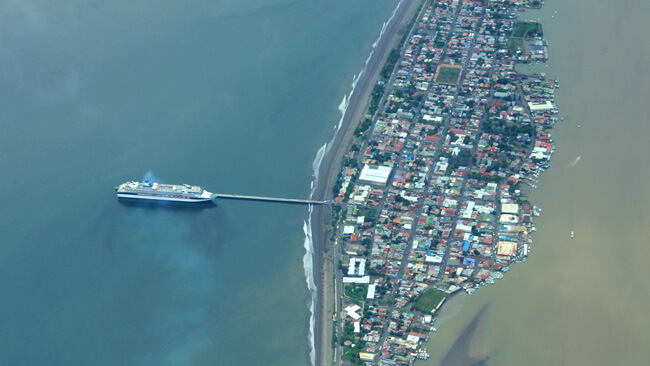 Puntarenas at a Glance
Nearby Activities:
Surfing

Windsurfing

Scuba diving

Chartered boat cruises

Canopy tours
Nearby Attractions:
Puntarenas Marine Park

La Casa de la Cultura (Culture House) art gallery

Museo Histórico Marino (Marine History Museum
Special Features:
As the biggest port on Costa Rica's Pacific Coast, Puntarenas is a key destination for cruise ships and a gateway to the Nicoya Peninsula.
Fast Facts
Region: Central Pacific
Closest Airports: Juan Santamaria International Airport, Florencia Airport
Altitude: Sea level
Average Temperature: 91 degrees Fahrenheit (33 degrees Celsius)
Puntarenas is a city and a province in Costa Rica, don't be confused! The province is named after the its capital and administrative center. Puntarenas literally means "sandy point" in Spanish, and that's exactly what it is built on, a sandy spit of land sticking out into the Gulf of Nicoya, surrounded on three sides by water. Long and thin, Puntarenas is no more than 5 blocks wide and more than 25 blocks long. Known simply as "El Puerto" (the port) by the majority of Costa Rica, Puntarenas was the country's principal sea port, and was developed in the 1840's as a transit center for the Central Valley coffee crop, which arrived at the ships first by ox cart and then by rail. Since those days, the port and the town has declined, although Puntarenas still hosts a large fishing fleet. The main seaport for Costa Rica is now at Caldera, a few miles south. Puntarenas is a popular beach destination for Central Valley Costa Ricans, being the closest beach to San Jose, and the main beach strip is crowded most weekends. For foreign tourists, Puntarenas is really only visited to use the ferry terminal to cross to the more pristine beaches of the Nicoya Peninsula.
Although most tourists visit Puntaneras due to its proximity to the Nicoya Peninsula, there are two festivals that are celebrated annually that are worth checking out. The first is the renowned Puntarenas Carnival, a lively parade that takes place in February and features live music from across Central and South America, as well as fireworks displays, sporting competitions, a flamboyant procession of costumed revelers and the crowning of the Puntarenas Carnival Queen. The second celebration of note that takes place in Puntarenas is the Festival of the Virgin of the Sea, which pays tribute to the patron saint of the Gulf of Nicoya, the Virgen del Monte Carmelo, every July. During the festivities, local ships are decorated with floral wreaths, and locals take to the streets to celebrate the blessings of Monte Carmelo.
The locals in Puntarenas are very friendly and welcoming to tourists, exemplifying the "pura vida" lifestyle for which Costa Rica is famous. Visitors can while away a lazy afternoon at one of the many bars and restaurants in the area. Chartered sail boats depart regularly from several piers, offering tourists the chance to soak up the sun on a relaxing cruise around the Gulf of Nicoya or try their hand at sportfishing.
Attractions & Places to See
Although there is much to see and do in the city of Puntarenas, the area is perhaps best known as an important transit point for people wishing to reach the Nicoya Peninsula . However, some of Costa Rica's most impressive national parks are just a short drive (or boat ride) away.
● Tortuga Island waterfall canopy tours
● Penas Blancas National Park
● Carara National Park
Activities & Things to Do
Many of the activities in Puntarenas revolve around the magnificent beaches that can be reached from the city. With breathtaking views, clean white sand and warm waters year-round, it's easy to see why the Gulf of Nicoya is so popular.
● Surfing/windsurfing
● Chartered boat tours around the Gulf of Nicoya
● Scuba diving/snorkeling
Wildlife & Nature
For wildlife enthusiasts, a trip to the Puntarenas Marine Park is a must. This extensive aquarium and sealife center is home to some of the most exotic creatures in the Pacific Ocean, including manta rays, cat sharks, anemones and other fascinating marine life.
Best Time to Visit
Puntarenas is considerably warmer than cities like San Jose in the Central Valley. For this reason, the high season between late November and late April is the best time to visit Puntarenas.
Where to Stay
Puntarenas and the surrounding area have an abundance of places to stay, from beachfront cabinas to luxury resorts overlooking the Gulf of Nicoya. During the height of the tourist season, competition for rooms can be intense due to the city's transportation connections to the Gulf of Nicoya, so travelers may want to book early to avoid disappointment. The humidity can be uncomfortable during the high season, so when reserving a place to stay, ensure the hotel or guest house has rooms with a fan or air conditioning.
Restaurants & Nightlife
The majority of Puntarenas' restaurants are small, charming and intimate family-owned eateries. These establishments specialize in dishes using freshly caught fish, as Puntarenas is known for the quality of its seafood. There are also plenty of food cart vendors throughout the city, so grabbing a quick bite on the go is never a problem.
Amenities & Infrastructure
Public transportation: Yes – regular buses to Jaco, ferries to the Nicoya Peninsula, intercity bus service
Public amenities: Yes – some public restrooms, beach changing huts
Shopping: Outdoor markets, street/beach vendors
ATMs: Yes
Gas stations: Yes
WiFi or Internet cafés: Wi-Fi in some areas, limited Internet cafes
Cell phone reception: Reliable
Restaurants: Yes – wide variety of choices
Nearest medical facilities: Costa Rica Social Security System Hospital, Puntarenas
How To Get There
Fly: The nearest international airport to Puntarenas is Juan Santamaria International in San Jose. From there, follow driving directions below to reach Puntarenas.
Bus: Buses depart roughly every 40 minutes from San Jose. The bus leaves from Avd 12, Calle 16.
Drive: From San Jose, drive northwest along Route 1 toward San Ramon. Continue west along Route 1, through Esparza. When the road splits at the Panamerican Highway, bear left and follow Route 17 to Puntarenas.
comments powered by

Disqus