Puerto Viejo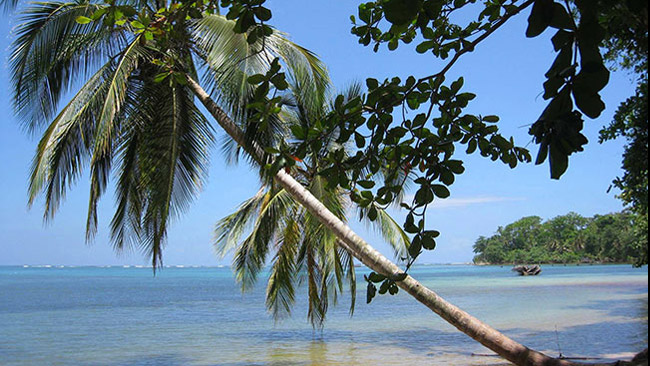 Puerto Viejo at a Glance
Ideal for:
Couples

Adventure Seekers

Solo Travelers

Groups

Nature Lovers

Budget Travelers
.
Nearby Activities:
Surfing

White Water Rafting

Wildlife Watching

Scuba Diving & Snorkeling

Canopy Tours

ATV Tours
Nearby Attractions:
Cahuita National Park

Aviarios Sloth Sanctuary

Gandoca – Manzanillo Wildlife Refuge

BriBri Indigenous Reserve
Fast Facts
Region: The South Caribbean
Landscape: Beach, Lowland Tropical Rain Forest
Closest Airports: San Jose (SJO)
Altitude: Sea Level
Average Temperature: 74º-84º F(24º-29º C)
Puerto Viejo de Talamanca is a small coastal town on the Caribbean sea surrounded by the lush tropical rainforest, gorgeous white sand beaches and a huge array of different wildlife. With a mixture of Afro Caribbean, Bri Bri Indigenous, Ticos, Americans and Europeans alike, Puerto Viejo offers a diverse and multicultural vibe. Famous for its 'Go Slow' attitude, you won't find a more laid back town in Costa Rica.
Puerto Viejo is not for everyone, you won't find any golf courses, marinas, country clubs and only a handful of hotels offer amenities like swimming pools or Air Conditioning that are standard in hotels in Guanacaste and other more developed areas. Puerto Viejo is more suited for the down to earth traveler looking for a no frills, authentic experience. If that is what you are looking for, Puerto Viejo will exceed your expectations.
Puerto Viejo is still considered an off the beaten track, an authentic destination where the local community wish to keep maintaining its roots and beautiful environment.
Attractions & Places to See
Cahuita National Park is a great place to see the wildlife in its natural environment and also offers wonderful snorkeling opportunities, as the protected reef just off the park's coastline is home to many coral and marine species. Diving is also a very popular activity in the area, with a range of different dive sites. Other wildlife opportunities not to be missed include the Sloth Sanctuary, an organisation protecting and rehabilitating Sloths in recovery, and the Jaguar Rescue Center, a non profit foundation rehabilitating mistreated, injured and/or confiscated animals, which are then reintroduced to their natural habitat in protected areas.
The mountains that surround Puerto Viejo are home to Bribri people, one of Costa Rica's native tribes. Learn about the culture of this indigenous community and significance of Cacao trees, healing and spirtual practices of 'awa' shaman, and help thier sustainable buisness initiatives by buying some of the localy made artefacts.
Activities & Things to Do
If you are looking for some adventure, Puerto Viejo offers you so much! From white water rafting the famous Pacuare river, ATV off road quad driving, Canopy ziplining through the rainforest, horseback riding on the beach or into the jungle, cycling, fishing, surfing, boogie boarding, Stand Up Paddling, you really won't find it hard to make your time in Puerto Viejo full of excitement!
There are many animal and jungle tours in the area; you may wish to have an up close experience of the Jungle at night, your local guide will take you into the jungle after sunset, where you can experience the wildlife and noises of the jungle at dark! Or you may wish to spot the Leatherback turtles nesting, when visiting the local Gandoca National Park.
Day Trips
Any of the following day trips are great adventure on its own; depending on your tastes pick between extreme take on nature, relaxing contemplation and party mode, or try out all of them!
Pacuare River White Water Rafting

Panama, Bocas del Toro
Wildlife & Nature
Both Manzanillo, located less than 10 miles south from Puerto Viejo, and Chauita National Park –10 miles north, are ideal places for discovering marine life while scuba diving and snorkeling. And when driving, watch the road carefully, as you may encounter a sleepy sloth trying to cross it! Otherwise, pay a visit to educational Aviaros Sloth Sanctuary, or the popular Jaguar Rescue Center, located minutes away from Puerto Viejo and known among nature lovers for its conservation policies. Birds, as anywhere in Costa Rica, are abundant and you may easily encounter toucans, noisy prakeets, kingfishers and herons alike.
Best Time to Visit
The area's climate is very unpredictable, but one thing is certain: it is often said that when the rest of Costa Rica is rainy, it's time to head out to the dry Caribbean. The best months to visit Puerto Viejo are February to April and August to October.
Where to Stay
Puerto Viejo has a truly wide range of places to stay, anything from $5 per night for camping grounds for your tent, a $7 hammock on a veranda to $300 per night for a luxury beach bungalow. Whether you're staying a day, a week, a month or more(!); renting a tiny hut or a luxury mansion, Puerto Viejo is ready for you!
Restaurants and Nightlife
Because of its strategic Caribbean location, Puerto Viejo is a cultural melting pot, populated by Costa Ricans, Jamaicans and European ex-pats who infuse the town with a rich ethnic flavor. This especially stands out in its dining options! Everything from the fine dining restaurants with exquisite international cuisine to local 'sodas' offering fresh 'mariscos' line up the coast, all the way to playa Cocles; take a stroll and pick what your heart wants! Puerto Viejo is one of the friendliest locales in Costa Rica, where party-goers, surfers and passersby mingle at the beach by day and come night, many bars offer Caribbean beats for never-ending fun.
Services & Infrastructure
Puerto Viejo has most services you would expect from a popular tourist town:
Public transportation: Yes. Frequent buses run from San José-Puerto Viejo, and also to and from Limon and Sixaola, small town just off the border with Panama. Puerto Viejo is small town and you can walk everywhere, but very popular option is to rent a bike as there are many rentals that offer them on daily bases throughout town. Taxis are prevalent, but majority of the taxis in Puerto Viejo are not metered so you should agree on a fare with the driver before getting in.
Public amenities: No
Shopping: There are few bigger markets where you can do all your basic grocery shopping and also smaller pulperias (convenient stores), usually equipped with drinks & fruit stands. Main beach is lined with tourist stands that sell affordable souvenirs and art crafts, often made at the same spot.
ATMs: Yes, BCR and Banco Nacional have their ATMs in Puerto Viejo.
Gas stations: No. Closest gas station is in Hone Creek, 3 miles (5 km) before Puerto Viejo.
WiFi or Internet cafés: Yes, internet cafes are scattered around town and provide reliable high speed internet connection.
Cell Phone Reception: Some Reception
Restaurants: Yes. There are menu dining options in Puerto Viejo, suiting everyone's budget.
Nearest medical facilities: Red Cross (Cruz Roja) provides emergency service. A small public hospital in Hone Creek (3 miles away) provides basic medical services. There is one private clinic with adjoined pharmacy and one dental clinic in Puerto Viejo.