Public Transportation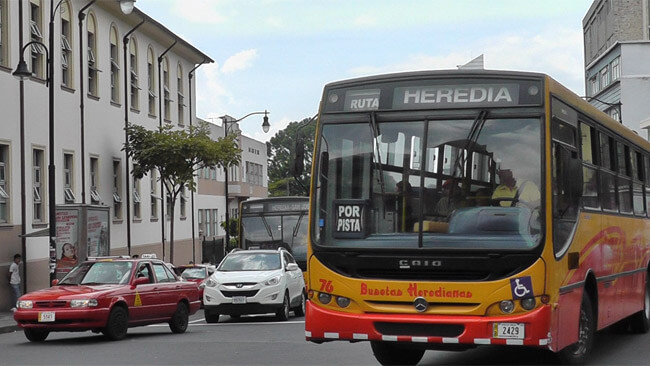 If you're not pressed for time when traveling around Costa Rica, and you want to save a few bucks, buses are ideal way to travel.
Tourist buses
One of the most affordable ways to get around in Costa Rica is by taking a tourist bus. Although there is no national bus network, these buses head to practically every major destination in the country, and provide you with the opportunity to meet the locals and enjoy the scenery rather than watching the road. San Jose is the main transportation hub in Costa Rica, but there isn't a centralized bus terminal – instead, various companies operate buses from several hubs throughout the city, so if you're planning to see the sights by bus, be sure to check in with one of our knowledgeable travel experts to get the lowdown on where and when to depart.
However, it's worth knowing that while buses are inexpensive, they often take much longer to get from one place to another than driving yourself would, as the routes typically avoid major highways and make frequent stops in small towns and villages. If you're not pressed for time, and want to save a few bucks, buses are ideal. Otherwise, stick to another mode of transportation, such as shared shuttles.
Shared shuttles
Another popular option for getting around Costa Rica is shared shuttles. These air-conditioned minibuses must be reserved in advance, but are much more comfortable than typical buses and the network covers most of the country. These shuttles depart from most major locations many times per day. However, a trip in one of these shuttles can be between three and five times more expensive than a regular bus journey, so keep this in mind when making your travel plans.
Boats and ferries
Much of Costa Rica's appeal lies in its beautiful, pristine beaches. Boasting two coastlines – one along the Pacific and the other on the Caribbean Sea – it should come as little surprise that the islands off the coast are a great place to visit. This is where boats come in. Some areas are only accessible by boat, so whether you want to reach a specific destination or just take in a relaxing afternoon on the water, Costa Rica boat rides are the way to go.
Domestic flights
Sure, you could always hop in your rental car or take a tourist bus to get where you want to go, but since you'll probably want to see as much of the country as possible during Costa Rica vacations, you might want to consider taking a flight to save some time. Domestic air trips are the ideal way to cover a lot of ground quickly, as most major cities and regional airports are just an hour's flight away from one another. Air fares are reasonable, and if you really want to travel in style, you can charter a private plane to enjoy the stunning sights of the Costa Rican landscape from a bird's eye view.
Aside from being convenient, domestic flights are often a preferable way to travel, especially when venturing to remote areas. Costa Rica's road network can be arduous in some parts of the country, making travel times between certain destinations quite lengthy. In addition, some parts of the country, such as Tortuguero on the Caribbean Coast and Drake Bay on the Osa Peninsula, are not accessible by road at all, making charter flights and a subsequent boat ride the best way to reach these secluded destinations.