Poas Volcano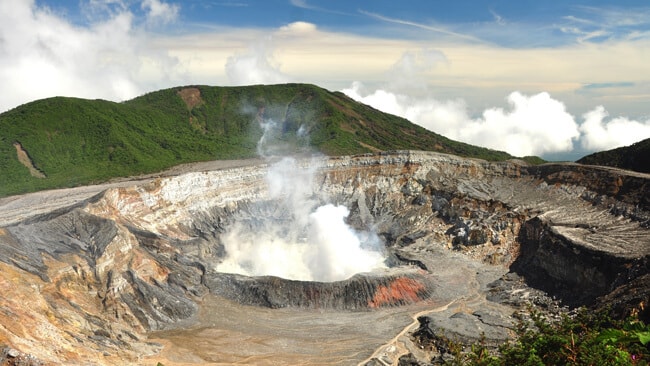 Poas Volcano at a Glance
Ideal time to visit:
Year-round, May through December are the best months.
Nearby Activities:
Coffee Tours
Hiking

Horse Back Riding
Nearby Attractions:
Poas Volcano National Park
Los Angeles Cloud Forest Reserve
La Paz Waterfalls
Special Features:
Poas Volcano has the second largest volcanic crater in the world. It measures 1.5 kilometers in diameter (0.9 miles).
Fast Facts
Region: San Jose's Central Valley & Highlands
Closest Town: Alajuela, 23 miles south
Volcano Altitude: 8,885 ft (2708 m) above sea level
Closest Airports: San Jose (SJO)
Average Temperature: 65º-70º F (17º-21º C)
Located in the province of Alajuela, Poas Volcano is one of Costa Rica's most popular active volcanoes to visit. Because it is only about an hour-and-a-half from San Jose, visiting the volcano and national park make for a great day trip. Standing at almost 8,900 ft above sea level, Volcan Poas National Park is actually home to two craters. The bigger of the two craters measures 1.5 kilometers in diameter (0.9 miles) and is 300 meters deep (900 feet). At the bottom of this hole, there is a medium sized blue-green lagoon that emits boiling sulphurous gases. The other crater is called Botos Lagoon which contains cold water.
While Poas Volcano is one of the most active volcanoes in Costa Rica, don't expect to see lava flow.  The last major eruption was in 1910. However, you are likely to see steam and gases coming from the crater, and occasional geyser-like eruptions that have reached up to 820 ft.
The main crater is easily accessed from a paved path/road which is about ½ mile from the visitors center. The second crater, Botos Lagoon, is accessible from a trail off to the side which takes about 20-25 minutes to walk.
Birding & Wildlife Watching
Surrounding the craters, the park is full of dense vegetation and small wildlife, including birds, coyotes, squirrels, rabbits, snakes and frogs. Larger mammals are not typically found here due to the higher elevation.
Best Time to Visit
The best time to visit the volcano is in the early morning before the clouds roll in and cover it (usually before 10 am is best).  Getting to the park is a beautiful, scenic drive, boasting views of rolling coffee plantations and flower farms.  Because of the higher elevation, it can get quite chilly and damp, so a light jacket or rain parka and appropriate walking/hiking shoes are recommended.
Many people enjoy visiting Poas Volcano in the morning, and on the way down stopping at La Paz Waterfall Gardens. The combination of the two attractions makes for a wonderful day without having to travel far from San Jose.
Services & Infrastructure
Public transportation: Yes, there is one bus a day that runs from San José center to the National Park entrance. It departs from Avenida2, across La Merced Park at 8:30 a.m (Tuasa Buses, $3). Drive takes two hours as bus makes one stop in Alajuela. There is only one return bus, at 2:30 p.m.
Park Admission Fees and Hours: Poas Volcano National Park is opened from 8:00 am to 3:30 pm, 7 days a week and has a $10 entrance fee. Tel: 2482-2165.
Public restrooms: Yes, next to the park's entrance office.
Shopping: There is a souvenir shop next to the park's entrance office.
ATMs: Closest Banks/ATMs are in Alajuela.
Gas stations: There is a gas station in Vara Blanca, few miles from Park entrance on the Barva road.
Cell Phone Reception: Reliable
How To Get There
By bus:  There are daily departures from Avenida 2, San José's downtown at 8:30 a.m  (Tuasa Buses, $3). Drive takes two hours as bus makes one stop in Alajuela. There is only one return bus, at 2:30 p.m.
By car: There are two routes you can take from San Jose: one is via Alajuela and other via Heredia (10 miles longer). The faster route:Get on the Panamerican Highway and follow it to Alajuela  downtown. Once there, follow calle 2 to route 712 to north and the signs of the park entrance.
comments powered by

Disqus