Playa Langosta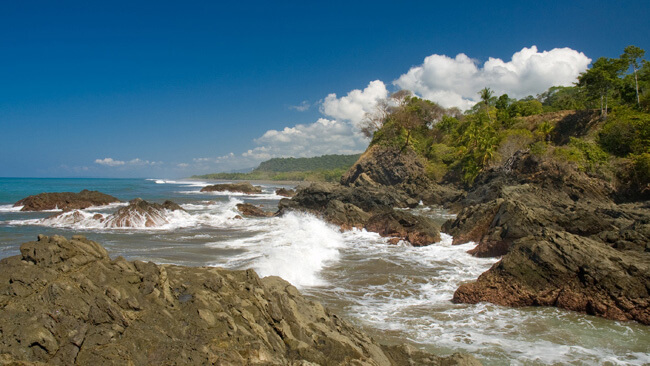 Playa Langosta at a Glance
Ideal for:
Families

Couples

Nature Lovers

Relaxation

Solitude 
Nearby Activities:
Beach walking

Surfing

Boogie boarding
Nearby Attractions:
Las Baulas Marine National Park
Special Features:
Great tidal pools, great walking beach with water-shoes or barefoot, great seashells and sometime sand dollars can be found. Swimming pools can form during high tide. Beautiful sunsets. Good surfing on southern end near the mouth of an estuary. Some rocky portions and sandy portions.
Fast Facts
Also Known As: Playa Langosta or Langosta Beach
Region: Guanacaste & The North Pacific
Closest Town: Tamarindo is about 2.5 km driving from the beach
Closest Airports: 50 minutes to Liberia (LIR) and 10 minutes to Tamarindo (TAM) airstrip
Average Temperature: 69.8°- 96.8° F (21°-36° C)
Crowd Level:  It completely depends on the time of year. It can get pretty busy during the high season, especially on the weekends thru Dec to April and Easter Week. It is less busy May thru November. This beach can feel totally secluded or crowded, it just depends when you go and what time of day.
Playa Langosta is located just south of Tamarindo and Playa Tamarindo on the Nicoya Peninsula on the Northern Pacific coast in the province of Guanacaste, Costa Rica. It is more laidback and quiet than its close neighbor. The shore is mainly dotted with small Bed and Breakfasts and Rental homes that range from simple to extravagant. Well known with the locals.
Take a 2 minute public accessible jungle walk from the beach using the access trail. It's a great place to bring a picnic lunch or head to before or after a meal in neighboring Tamarindo. Great place to skip stones, hop from rock to rock, check out the tidal pools, shells, relax and take a long sunset stroll. This place fills up especially on holidays and weekends during peak season.
Playa Tamarindo is a long beach, with excellent waves for surfing near the mouth of an estuary. Currents can be strong, especially on a falling tide. The sand color is a nice cotton-like white and is lined with natural foliage but few palm trees. It's a great beach to find surprises in the sand such as various seashells and the occasional sand dollar if you're lucky! The further you walk the quieter it can be as you listen to the rhythm of the sand and surf. A nice place to get away from the hustle and bustle and take in a picnic lunch or evening sunset.
Nestled between Las Baulas National Marine Park and Playa Tamarindo this beach is a very natural, laid-back feel with little development or solicitors. Expect to take in some strong sun, great surf, and a beautiful shoreline for relaxing and watching some surfers near the estuary mouth. Just under an hour from Liberia and minutes from well-known Tamarindo, this pristine beach is a must see for nature and beach lovers!
Best Time to Visit
Playa Langosta is great to visit year round. The driest time of the year is Dec-April. The rainiest is September and October but, in general Guanacaste is the driest part of the country.http://www.costarica-nationalparks.com/lasbaulasnationalmarinepark.html Check out neighboring Las Baulas National Park between October and March to catch a glimpse of the leatherback turtles that nest in the area.
Birding & Wildlife Watching
This beach is not so much about the birding and wildlife but more about the sand, waves, tidal pools and sunsets. You might see some pelicans occasionally.
Amenities & Infrastructure
The beach is accessible by a 1 minute sandy beach path with railings via a small dirt road and simple side-of-the-road parking. Nearest amenities are in Tamarindo which is 2.5 km (1.5 miles) away by car.
Public transportation: No, nearest is from Tamarindo with either: hotel shuttle to LIR or taxi or local bus to Liberia
Public amenities: No, but Tamarindo is 2.5 km away
Shopping: No, but Tamarindo is 2.5 km away
ATMs: No, but Tamarindo is 2.5 km away
Gas stations: No, but Tamarindo is 2.5 km away
WiFi or Internet cafés: No, but Tamarindo is 2.5 km away
Cell Phone Reception: Some Reception, mostly with Kolbi ICE service.
Restaurants: No, but Tamarindo is 2.5 km (1.5 mi) away with a wide range of fare from local to international that you can always bring to the beach as take-out or eat before or after visiting the beach.
Nearest medical facilities: Hospital de la Anexion in Nicoya, Hospital de Liberia or
pharmacy in Tamarindo.
comments powered by

Disqus