Manzanillo Beach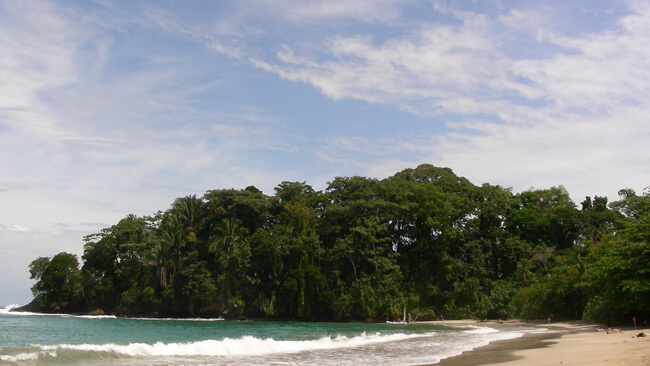 Manzanillo Beach at a Glance
Ideal for:
Couples

Nature Lovers

Relaxation
Nearby Activities:
Kayaking

Snorkeling

Swimming
Nearby Attractions:
Gandoca Manzanillo Wildlife Refuge
Nesting Sea Turtles
Wildlife
Special Features:
Arguably one of the Caribbean's most beautiful beaches with white sands and stunning waters, Manzanillo is protected by the Gandoca Manzanillo Wildlife Refuge. Known for its picturesque beaches and diverse wildlife ranging from manatees, dolphins, and several species of sea turtles which come to nest on the beaches from February through May.
Fast Facts
Also Known As: Manzanillo Beach, Playa Manzanillo
Closest Town: Puerto Viejo is 9 miles north along the coast
Closest Airports: San Jose International airport
Average Temperature: 72-°95°F
Crowd Level: Secluded
Picture a rustic Caribbean coastline with white sands and stunning blue water surrounded by lush vegetation. Welcome to Manzanillo, a hidden treasure found at 'the end of the road' nestled near the Panamanian border of Costa Rica's Limon Province. Far quieter than the beaches of neigboring Puerto Viejo to the north, on a quiet day one can feel that they are completely alone on a deserted Caribbean coastline. Protected by the Gandoca Manzanillo Wildlife Refuge, the palm lined beaches offer a tropical paradise and the protected coral reef is popular with scuba divers and snorkelers alike.
Swim in the warm waters and look for hidden underwater treasures or rest under the shade of a palm tree. Bring a towel and some snacks and simply relax to the sounds of the ocean- with plenty of untouched beach to explore, you may find a nook where it's just you and the company of some local wildlife. If you feel like exploring, walk along trails to reach other pockets of sand, or hike up to short path to see rock formations in the water. Amongst the abundance of wildlife, you may be lucky enough to spot manatees, dolphins and species of sea turtles, such as the green sea turtle, which nest on the beaches of Manzanillo from February through May.
Don't forget your camera, you will need it to capture the plethora of flora and fauna on, in and around the waters and sands of Manzanillo. Be sure to bring a snorkel and mask to take a peek at the underwater beauty, or hire equipment in the area.
Best Time to Visit
It's never cold in Manzanillo! Located in the Southern Caribbean region of Costa Rica the area hot and humid year round. Manzanillo receives rainfall throughout the year and there is not a clearly defined dry/green season like in other parts of Costa Rica. September/October and February/March are typically drier months, however it is not uncommon to receive afternoon and evening storms. It is because of this rainfall that the area is blessed with lush, green surroundings at all times of the year.
Birding & Wildlife Watching
Thanks to the establishment of the Gandoca Manzanillo Wildlife Refuge in 1985, the protected beaches and surrounded area are home to an abundance of wildlife both above and underwater. The remote location of Manzanillo beach and it's lush tropical climate make it the perfect environment for biodiversity and the beach area is home to a large number of bird, marine and wildlife species. It is a rich area for birding with the protected areas providing home to species of hawks, owls and a plethora of other tropical birds. Although not a primary nesting site for turtles- marine species such as the leatherback, hawksbill, and green sea nest on the southern beaches. The coral reef is home to a number of creatures such as lobsters, sponges, urchins and anemones and dolphins, manatees and various tropical fish inhabit the surrounding waters.
Services & Infrastructure
Public transportation: Yes,there are roundtrip buses on Limon-Cahuita-Puerto Viejo-Manzanillo route four times a day
Public amenities: No public restrooms
Shopping: There's a fruit stand a street food vendor
ATMs: No
Gas stations: No, first one is 12 miles away, in Hone Creek
WiFi or Internet cafés: y/n
Cell Phone Reception: Poor
Restaurants: No, there are few restaurants on the way from Puerto Viejo to Manzanillo
Nearest medical facilities: The closest medical facility is the Hone Creek clinic
How To Get There
Fly: Closest international airport is in Costa Rica's capital, San Jose (4.5 hour drive). There's no regional airport in Puerto Viejo, but one can fly to Limon, main port of the Caribbean that's 1 hour drive away from Puerto Viejo.
Bus: There are several buses a leaving San Jose for Puerto Viejo, departing from Atlantico Norte (Transportes Mepe) in Barrio Mexico, with last departure starting at 4 pm. The trip takes around 5 hours and costs less than $10 US. Call 257-8129 for updated schedules and fares.
Drive: Fastest route (4 hour drive) from San Jose is by Route 32, climbing through amazing landscape of Braulio Carrillo National Park; and coming down to Caribbean lowlands via Guapiles. Follow the signage to Limon, and then turn right on Route 36. Follow the main road for the next 33 miles (53 km) then take left in front of Hone Creek, Route 256. You're in Puerto Viejo shortly after. From Puerto Viejo, follow signs to Manzanillo – the town lies nine miles south of Puerto Viejo.
comments powered by

Disqus