Las Baulas National Marine Park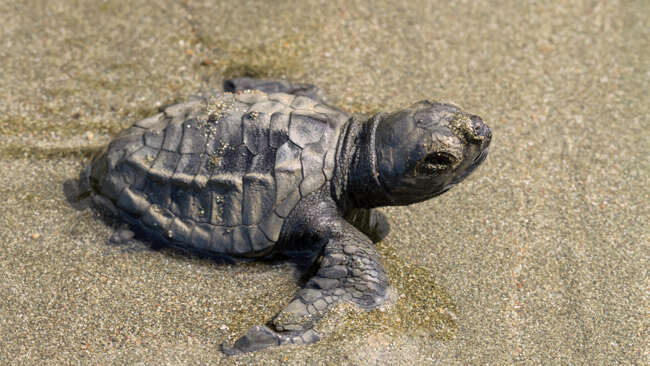 Las Baulas National Marine Park at a Glance
Ideal time to visit:
Year-round

Night-time visits to the beach to observe turtle nesting are only allowed from October to February.
Nearby Activities:
Hiking

Sea kayaking

Sailing

Snorkeling

Surfing

Swimming
Nearby Attractions:
Park Museum at the entrance

Tamarindo estuary and mangroves at the mouth of the Matapalo River

San Francisco River Estuary

Playa Grande

Playa Langosta

Playa Ventanas
Special Features:
It supports the largest nesting colony of leatherback sea turtles (baulas) on the Pacific Coast of Costa Rica, with a population size of about 800 female turtles nesting per year.
Fast Facts
Keywords: Leatherback Sea Turtles, Dolphins, Green Marine Iguanas
Region: Guanacaste & The North Pacific
Closest Town: Tamarindo (13.5 km, 26 mins)
Altitude: Sea Level
Closest Airports: Liberia airport is about 1 hour driving and Tamarindo Regional airport is 25 min away.
Average Temperature: 74º-88º F (23º-31º C)
Playa Grande is home to one of the most remarkable natural phenomena on earth. The Leatherback Turtle (La Baula), an endangered species, makes its way to Playa Grande each year to bury its eggs in the white sand. Its scientific name is Dermochelys coriacea. For this reason the Las Baulas National Marine Park was founded in 1995 to protect this magnificent creature.
Las Baulas National Marine Park is another of Costa Rica's important sea turtle nesting sites. Located on Costa Rica's Pacific Coast in the Northern Province of Guanacaste near the tourist town of Tamarindo.
Encompassing an area of roughly 445 hectares of mangrove swamps and coastline, Las Baulas National Marine Park  is made up of the four beaches, Playa Grande, Playa Langosta, Playa Ventanas and Playa Carbon. The two mangrove estuaries in the park are the 'Estero de Tamarindo' and the 'Estero de San Francisco', the former of which is the biggest mangrove estuary in Latin America. This national park also extends 12 miles offshore as well, to protect the sea turtles from poachers and tourists alike. The park size is about 1,100 acres (445 hectares) of beach and coast, and 54,400 maritime acres (22,000 hectares). The land portion is a little bigger than central park, NYC.
The Northwest Pacific is one of the driest climates in Costa Rica. The beach areas have a fairly steady year round temperature with daytime highs averaging in the upper 80s to lower 90s. Nighttime lows are usually in the upper 70s. Precipitation varies through the year with the nicest weather between November and August.
The nesting ground for thousands of leatherback turtles who make the journey every year to this national park, Marino las Baulas National Park also protects 174 species of birds and a number of different animals that live in the estuaries here. Home to the white ibis, the cattle egret, the blue-winged teal and the muscovy duck, this park also looks after capuchin monkeys, raccoons, crocodiles, pacas and grey squirrels as well.
Playa Grande is known as one of the largest leatherback turtle nesting sites in the world. Every year between October and February, hundreds of leatherbacks come ashore to lay their eggs. These Jurassic reptiles, the largest of all sea turtles, can weigh upwards of 1,500 pounds (680 kg.) and measure 6-feet (1.8 m.) in length. The beaches in Las Baulas Marine Park support over 800 nesting sea turtles annually, but despite impressive regional numbers, the leatherback remains highly endangered and at risk of extinction in the Pacific.
Guided evening turtle tours can be arranged at the Las Baulas ranger station in Playa Grande. The cost is $25 for visitors and $5 for nationals and includes a guide and the park entrance fee. Travelers staying in Tamarindo can book a turtle tour with the Local Guide Association at Tamarindo's satellite station. Tours cost $35 per person, including the $10 park entrance fee. Groups travel ten minutes by boat through the Tamarindo Estuary to access Playa Grande.
There is excellent bird and wildlife watching within the park. The nearby Tamarindo Wildlife Refuge, a saltwater mangrove estuary, is thick with black-bellied whistling ducks, roseate spoonbills, yellow-crowned night herons, kingfishers and crocodiles. Howler monkeys, raccoons and coatimundis are also frequently spotted. Visitors can rent kayaks and paddle on their own, or tour the estuary with a naturalist guide. Several tour operators in Tamarindo offer guided kayak trips.
Playa Grande very popular attraction besides the turtles are the amazing waves for surfing. Is s very consistent break, almost always has fun, ridable waves, and catches more swell usually than other spots around. Playa Grande boasts a sandy bottom beach breaks with perfect left and right peaks, it could hold waves up to almost double-overhead.
There are so many reasons to visit this beautiful national park and enjoy everything it has to offer. Las Baulas National Marine Park is a great place to visit with family, and friends and have an amazing time. It is important that visitors be aware of certain things when touring this national park, but the most important for all of us is having conscious about our environment and take action to take care of our natural resources.
Best Time to Visit
Depending on the type of activity you're looking to do the best time to come to the park will change. Night-time visits to the beach to observe turtle nesting are only allowed from October to February.
If you are looking to just visit the park, enjoy the sun, sand and surf the best time will be from December to May which is dry season in Guanacaste. On the other hand, if you are a bird lover, we recommend you to come from February to April.
The region has some of the nicest beach weather in Costa Rica. Even during the rainy season it is likely that the sun will be out most of the time, and the precipitation will fall as brief afternoon or overnight showers
Services & Infrastructure
A ranger station at Playa Grande is staffed with bilingual guides. A limited number of visitors are allowed on turtle tours each evening.
Public transportation: Yes, from Santa Cruz main bus station take the Playa Grande bus, the only 2 schedules available are at 5 am and 1pm. There is also a direct bus from San Jose to Matapalo which is the town just before Playa Grande. Its about 6 km from the park.
Public restrooms: Yes; about 100 meters from the park main entrance.
Shopping: The area several "Small pulperias" around and in Matapalo but the biggest Supermarket will be Super Compro in Huacas about 20 min away.
ATMs: No; the nearest ATM is in Huacas, Tamarindo and Reserva Conchal
Gas stations: Yes, one in Huacas 20 min away and another one in Villa Real about 23 min away.
Cell Phone Reception: Reliable
Restaurants: There are several options around the area like pizza places and local restaurant in Playa Grande.
Nearest medical facilities: There is a private clinic next to Kike's Place. There are medical clinics and Ebais in Tamarindo and Villa Real (25 min from the park), the nearest hospital is in Nicoya which is about 1½ hours away.
comments powered by

Disqus