Golfo Dulce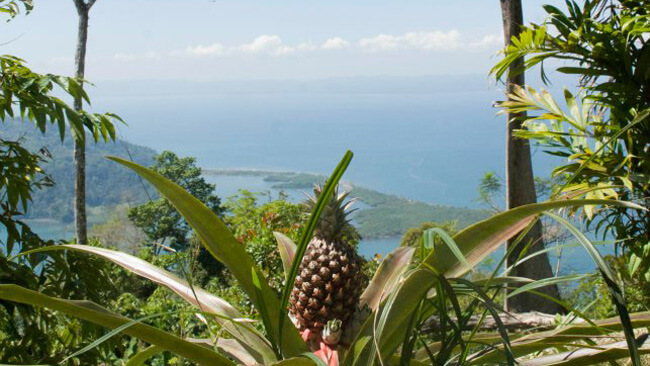 Golfo Dulce at a Glance
Ideal For:
Nature Lovers

Couples

Adventure Seekers
Families
Solo Travelers
Nearby Activities:
Hiking
Surfing
Swimming
Scuba Diving & Snorkeling
Kayaking
Sports Fishing
Bird Watching
Whale and Dolphin Watching
Mountain Biking
Horse Riding
Nearby Attractions:
Corcovado National Park
Piedras Blancas National Park
Playa Pavones
Playa Zacundo
Playa Cabo Matapalo
Those seeking lush pristine rainforests, monkeys, scarlet macaws, toucans, ocelots and many big cats, as well as anteaters and sloths, to name just a few, should most definitely have Golfo Dulce on their list. The mangroves and calm water of the gulf makes it one of the most unique places on earth. Lodged between the Corcovado National Park and the Piedras Blancas National Park, the Golfo Dulce Reserve holds species of flora and fauna found nowhere else in the world; indeed, National Geographic describes Corcovado as being the most biodiverse place of the planet. Piedras Blancas is actually an extension of Corcovado. Established in 1992, it covers 30,000 acres of undisturbed humid tropical lowland primary rain forest and 5000 acres of secondary forests. Aside from forests and mangroves, these parks have idealistic gorgeous white sand beaches, pasture land, rivers and over one hundred streams.
Golfo Dulce is without a doubt different, exotic, wild and scenic. Its name, Golfo Dulce, means sweet gulf in English. There are several little coastal villages to visit in the gulf, mostly gorgeous beaches such as Zancudo and Pavones while Puerto Jimenez and Golfito are the two main towns with shops, restaurants, hotels and bars.
When the banana production suffered severe cutbacks in 1984, officials saved the town' economy by establishing a duty-free zone in the northern part of the city of Golfito. This attracts masses of people all year around who are looking for bargains and cheap good quality goods; Tourists are mostly coming to the area as it serves them as a stopover as they are on their way to some of the National Parks.
Attractions & Places to See
The Golfo Dulce is probably the most humid area of Costa Rica; it receives more than 200 inches of rain per year. As a result this area is green and teeming with life, ideal for adventurers and explorers. While in the area, visit:
Corcovado National Park

Piedras Blancas National Park

Playa Pavones

Playa Zacundo

Playa Cabo Matapalo
Activities & Things to Do
Apart from the National Parks there is much to do in Golfo Dulce. Outstanding Sports fishing is available in Puerto Jimenez and in Golfito. Pavones is one of the most famous surfers' beaches of the world and while Zancudo is also good for surfing, it is an excellent beach for swimming. These pristine and wild beaches are both of breathtaking beauty.
National Parks
Hiking
Surfing
Swimming
Scuba Diving
Snorkeling
Kayaking
Sports Fishing
Bird Watching
Whale and Dolphin Watching
Mountain Biking
Horse Back Riding
Wildlife & Nature
The mangroves and the estuaries are located along the edges of Golfo Dulce and are teeming with wildlife. It is fantastic to see it from a boat or a kayak in order to really understand and appreciate this amazing ecosystem; it has it all, crocodiles, river otters, monkeys and all types of birds, including waterfowl.
Services & Infrastructure
Public transportation: Yes, there are public buses & scheduled taxi boats available daily
Public amenities: No
Shopping: Find many stores, grocery and souvenires' shops In Golfito
ATMs: Yes, there are several banks in Golfito
Gas stations: Yes
WiFi or Internet cafés: Yes, majority of restaurnats in Golfito and Puerto Jimenez have WiFi coverage
Cell Phone Reception: Poor to Good
Restaurants: Excellent range of choices
Nearest medical facilities: Small clinic in Puerto Jimenez, Golfito has a public hospital
How To Get There
You can reach Golfo Dulce by air, Sansa and Nature Air have daily flights to Goflito or Puerto Jimenez. Form there is a 20 minutes drive to the Golfo Dulce Reserva. Driving is an adventure by itself as it takes over 7 hours!
Fly: Regular domestic flights from San Jose. Flights take approximately one hour. Around five or six flights depart from San Jose to Golfito & Puerto Jimenez daily.
Bus: Take bus to Golfito from San Jose's Tracopa terminal (leaves twice a day; 7 hours ride) and then take a boat or a taxi boat to Golfo Dulce Reserva.
Drive: From San Jose, take Highway 2 (also known as the Panamerican Highway) to San Isidro. Take a right to get on the Dominical Highway before bearing left onto the Costanera Highway. Drive through Dominical and reach Rio Claro. You will see signs for Golfito, take right and follow route 14.
comments powered by

Disqus