Golfito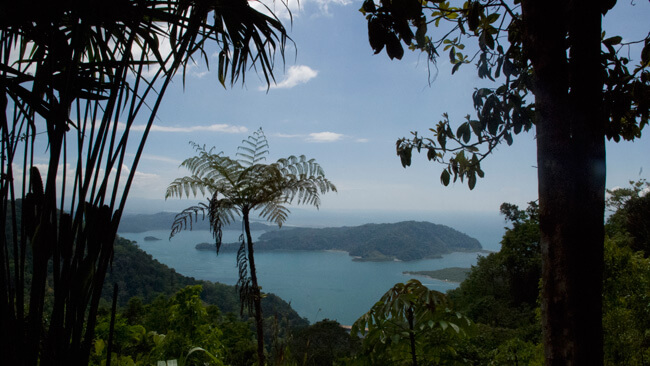 Golfito at a Glance
Ideal For:
Nature Lovers
Couples
Adventure Seekers
Families
Solo Travelers
Nearby Activities:
Hiking
Surfing
Swimming
Scuba Diving & Snorkeling
Kayaking
Sports Fishing
Bird Watching
Whale and Dolphin Watching
Mountain Biking
Horse Riding
Nearby Attractions:
Corcovado National Park
Piedras Blancas National Park
Playa Pavones
Playa Zacundo
Playa Cabo Matapalo
Golfito is located in the Southernest part of Costa Rica, on the eastern side of Golfo Dulce, close to Panama. The port enjoyed prosperity at the beginning of the 20th Century with the United Banana Company, and was the only port of any importance in those parts, but lost its status in 1985 with the end of the banana company.
Today, it is enjoying popularity again, as a tourist attraction and it has become the Golfito Reserve, otherwise called Refugio Nacional de Vida Silvestre.  In 1990 a duty-free zone was created, attracting ticos and foreigners alike by the thousands. National Parks were created in the whole area and now Golfito is totally established as being one of the most important tourist attraction. There are "out of this world" boat trips to do in Golf Dulce, as well as enchanting trips to do on the Rio Coto.
Attractions & Places to See
The Corcovado National Park is one of Costa Rica's highly prized treasures and was named the most biodiverse place on Earth by National Geographic,  is just across Golfo Dulce.  Pavones, south of Golfo Dulce, is a surfer's paradise.  San Vito is a small village hiding high up in the Hills, it was founded by Italians in the late 1950s. As it's over 900 meters high, it is a welcome change from the hot and humid climate found further down, and it is a good spot for an Italian meal.  The Wilson Botanical Gardens, also named Las Cruces Biological Station, is a paradise for gardeners, bird watchers, biologists, or just for anyone who enjoys nature; 700 species of palms can be found there, making the second largest collection in the world. Also in the area is the International Park La Amistad, international because it occupies Panama as well as Costa Rican soil, where many indigenous tribes such as Bribri, Ngobe, Naso, Cabecar as well as other Latin ethnic groups are living.
Playa Zancudo is definitely the best beach to visit while in Golfito; it is possible to drive there, or to take a bus, but the boat trip is also beautiful. It is good for swimming; it is a long and peaceful beach, perfect for talking long strides, with many bars and restaurants alongside the shore. There are small cabinas there too should you want to spend some time. Places to see:
Corcovado National Park
Piedras Blancas National Park
Playa Pavones
Playa Zacundo
Playa Cabo Matapalo
Activities & Things to Do
Apart from visiting National Parks you can enjoy great deep sea and inshore sport fishing; Pavones is one of the most famous surfers' beaches of the world and while Zancudo is also good for surfing, it is an excellent beach for swimming.
Hiking
Surfing
Swimming
Scuba Diving & Snorkeling
Kayaking
Sports Fishing
Bird Watching
Whale and Dolphin Watching
Where to Stay
Golfito has a nice selection of hotels, and following below are some of the best ones. Hotel El Gran Ceibo, nice place with balconies, A/C, and beautifully located in a tropical setting. La Purruja Lodge, located 4 kms before you reached Golfito, Hotel Bay Marina, where sports' fishing is offered, with a view over the ocean, and hotel Golfo Azul, for those who enjoy their comfort.
Restaurants & Nightlife
There are many restaurant to choose from as well, amongst which the Pizzeria Alery, the Restaurant Hotel Corcovado, incidentally a good hotel too, Mar y Luna, all to do with seafood.  Rio de Janeiro offers lots of meat with Filet Mignon, BBQ Ribs, etc. and Samoa del Sur, with its wonderful open-air restaurant Le Coquillage, has a whole range of international cuisine, pastas, pizzas, and seafood. There are pool tables and dart boards, and it is also a place to just drop by to have a drink!
Services & Infrastructure
Public transportation: Yes, there are public buses & scheduled taxi boats available daily
Public amenities: No
Shopping: Find many stores, grocery and souvenires' shops in Golfito
ATMs: Yes, there are several banks in Golfito
Gas stations: Yes
WiFi or Internet cafés: Yes, majority of restaurnats in Golfito have WiFi coverage
Cell Phone Reception: Good
Restaurants: Excellent range of choices
Nearest medical facilities: Golfito has a public hospital, quite a few pharmacies and small private clinics
How To Get There
Fly: Regular domestic flights from San Jose. Flights take approximately one hour. Around five or six flights depart from San Jose to Golfito daily.
Bus: Take bus to Golfito from San Jose's Tracopa terminal. It leaves twice a day and it's a 7 hours ride.
Drive: From San Jose take the Caldera highway, Route 27, toward Jaco and Quepos, continuing south to Dominical. From Dominical, take the Costanera Sur to Palmar Norte. When you reach Rio Claro and see signs for Golfito, take right and follow route 14.
comments powered by

Disqus