Geology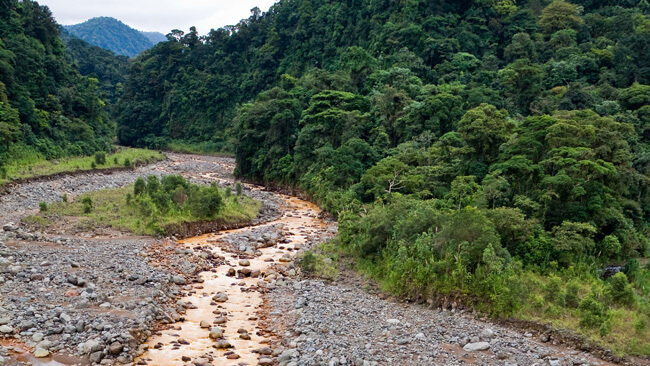 Famous for its towering mountains, active volcanoes and dramatic valleys, it is the unseen forces that created this impressive landscape which tend to go unnoticed by those that vacation to Costa Rica. Geologically speaking, Costa Rica is one of the most fascinating countries in the world.
The Convergence of Five Tectonic Plates
Thousands of tourists come to Costa Rica every year to enjoy the crystal-clear waters of the Caribbean Sea and Pacific Ocean, but many don't realize just how interesting the seabed beneath Costa Rica is. The country itself technically sits at the convergence of five tectonic plates – the North and South American, Caribbean, Cocos and Pacific plates. Tectonic plates are parts of the Earth's crust upon which continents sit. These plates are in constant motion, although they move far too slowly for the naked eye to register. For geologists, however, tectonic plate shifts say a great deal about everything from a country's terrain to its predisposition to earthquakes.
Dozens of Volcanoes (Some Active!)
The geological pressure of tectonic plate movement creates sweeping mountain ranges as the plates collide with one another. As one plate becomes forced under another, the resulting pressure creates volcanoes, as magma boils up from beneath the Earth's surface and forces its way out through volcanic craters.
Costa Rica is home to dozens of volcanoes, many of which are still active. Poas Volcano is one of the most impressive, and although the last major eruption occurred in 1910, steam and ash can still be seen spewing from the mountaintop regularly. Other active volcanoes in Costa Rica include Irazu and Turrialba in the Central Highlands, and Rincon de la Vieja and Tenorio in Guanacaste.
Five Towering Mountain Ranges
Just as the collision of tectonic plates created Costa Rica's volcanoes, it also resulted in the formation of the country's five major mountain ranges – the Cordillera Central, Guanacaste, Talamanca and Tilaran ranges, and the Cerros de Escazú. The Tilaran Range is home to Arenal Volcano, while the Cordillera Talamanca is where visitors can find the tallest mountain in Central America, Cerro Chirripo.
Costa Rica's Ancient Rocks
Evidence of Costa Rica's prehistoric origins can be found everywhere. For example, many of the rocks that litter the country's deepest valleys and gorges are ophiolites, rocks that were originally part of the ocean floor. Some of these stones can be around 180 million years old. Ophiolites are particularly common in southern Guanacaste and Puntarenas. Certain regions of Costa Rica's central valley are also strewn with oceanic sedimentary rocks, particularly the region surrounding Cerro Chirripo, Costa Rica's tallest mountain.
comments powered by

Disqus