Costa Rica by Shuttle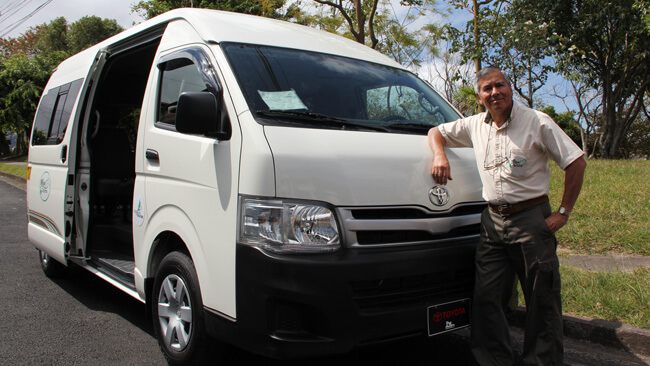 One of the most popular ways to get around Costa Rica is by shuttle. These minibuses operate all over the country, and are an ideal and inexpensive way to see Costa Rica without the hassle of renting a car and navigating the back roads. In addition to being a convenient way of getting from "A" to "B," these shuttles are also much more comfortable than public buses – and when you're driving through Guanacaste at the height of the dry season, you'll be grateful for the air conditioning!
Major operators
There are two main shuttle companies in Costa Rica – Interbus and Gray Line. These two companies provide shuttle service between virtually all major cities and towns across the country, in addition to some destinations a little further out into the countryside. One of the main advantages of using a shuttle service is that they coordinate pickup from and drop-off to many popular hotels, meaning you can depart and arrive in comfort without needing to worry about connections.
Another reason shuttles are so popular in Costa Rica is their affordability. If you're staying in San Jose, you can reach some of the country's most popular tourist destinations including Jaco, Manuel Antonio, Monteverde and Mal Pais for less than $50 per person. Shuttles depart frequently, with some routes offering shuttle service several times per day, but some destinations a little further afield may only have one or two scheduled departures. If in doubt, check the official websites of Interbus or Gray Line.
As shuttles are popular with locals and tourists alike, it's often necessary to reserve tickets in advance. Both Interbus and Gray Line offer online booking facilities, so rather than taking a chance on a free seat being available, ensure that you reserve your spot ahead of time to avoid disappointment.
Getting in touch
Due to their popularity, Costa Rican shuttle services are available from most major hotels. To reserve a seat on a shuttle, you can either contact the provider directly online, or make inquiries through your hotel. Many accommodations have good relationships with these bus companies, and will be able to help you make a reservation. Timetables are available online, which will make planning your excursion easier, and Interbus often offers special discounts for multiple transfers, so be sure to keep an eye out for these deals when booking.