Corcovado National Park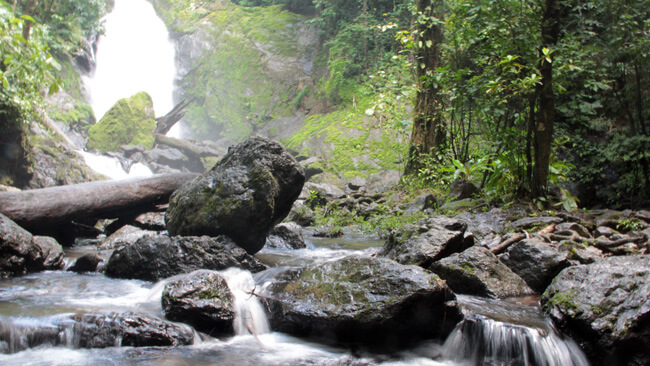 Corcovado National Park at a Glance
Ideal for:
Nature Lovers
Couples
Families
Adventure Seekers
Luxury Travels
Nearby Activities:
Bird & Wildlife Watching
Dolphin & Whale Watching
Hiking tours of the Primary Lowland Rainforest
Night Trails
Snorkeling & Scuba Diving
Nearby Attractions: 
Caño Island Bilogical Reserve
Osa Wildlife Sanctuary
Piedras Blancas National Park
San Pedrillo Waterfalls
La Llorona Waterfall
Fast Facts About Corcovado
Region: Osa Penisula and The South Pacific
Landscape: Beaches, Lowland Rainforest
Closest Airports: San Jose International Airport (SJO), Drake Bay, Puerto Jimenez & Golfito  airstrips
Altitude: Sea Level to 330 ft (100 m)
Average Temperature: 71-93°F (23-34º C)
Corcovado is a true wonder of the world, a magical place in the southern part of the Pacific Coast of Costa Rica, in the Osa Peninsula. It was declared by National Geographic to be one of the most biologically diverse places on Earth. Those who seek a close and unique contact with nature will love this haven that is home to the only tropical primary lowland rainforest of the world and to a plethora of endangered animals and plants. Because Osa used to be an island, long ago, some animals had started a separated evolution and so some these subspecies are found nowhere else on the planet.
The breathtaking beauty and serenity of Corcovado National Park is too complex for words. It is one of the most remote parks of the country, with astonishing forests and stunning, deserted beaches. This is the paradise of nature lovers, explorers, hikers and scientists alike. It was created in 1975 for its own protection and to put a stop to illegal gold mining and logging. It is today a number one destination for adventure seekers and those who appreciate natural beauty and conservation. It is however not easy to reach and this helps to keep it safe and undisturbed.
The climate is hot and humid in Corcovado and it enjoys quite a lot of rain, thus it is lush green and verdant. Hiking is the favorite occupation for exploring its mysterious and magnificent rain forests that open on to stunning white-sanded beaches and turquoise blue sea. This is nature at its best, the way it was intended to be always and how it should stay. Corcovado has 4 rangers' stations spread out in strategic locations; without a doubt, it is good to see the park through a guided tour at least once! While the trails are clearly indicated, the guides will help you spot animals and plants and give you authentic and fascinating information. Most guides are found in Puerto Jimenez or in Drake Bay; when in Puerto Jimenez, make sure to enquire about the night hikes in the jungle, a thoroughly exciting experience.
Wildlife & Nature
Corcovado has no less than thirteen major ecosystems, including beaches, fresh water herbaceous swamps, primary lowland rainforests, mangrove swamps, jolillo palm groves, streams and lagoons. It encompasses 140 mammals, 400 species of birds of which 20 are endemic, 116 amphibian and reptile species and about 500 different types of trees all on a surface of 41,000 hectares.
Corocvado National Park  is home to Jaguars, Puma, Ocelots and other indigenous cats, as well as Tapirs, monkeys, Scarlet Macaws, Toucans, resplendent Quetzals, Red-eyed-tree-frog, Poison Arrow Frog, sea turtles, crocodiles, indeed far too many to list. It is also home to the very rare Harbor Squirrel Monkey and to the Harpy Eagle.
Best Time to Visit
The best time to visit Osa Peninsula is Dry season, which runs from January through April, has reliable sunny weather with little or no rainfall. This is also the most popular and expensive period. During the green season (May through August/September) afternoon showers are  common but you wil get the best value as lodges drop their rates significantly. Avoid September and October as many lodgings are closed during these two rainiest months.
---
Services & Infrastructure in Corcovado National Park
Transportation: Yes; flights are available to Puerto Jiménez, Golfito, and Drake Bay. Others options are bus and boats.
Public amenities: Yes; at the four ranger stations, there are public bathrooms, showers, and drinking water.
ATMs: You will need to use the ATM in Puerto Jiménez.
Gas stations: You will need to use the gas station in Puerto Jiménez
WiFi or Internet cafés: Hotels on the Osa Peninsula have internet.
Cell Phone Reception: None. The Sirena station offers emergency phone usage only.
Restaurants: No; the Sirena station does offer meals service with prior reservation.
Nearest medical facilities: Sirena station is well-equipped for emergencies but is not a medical facility. Puerto Jiménez has a small clinic, and Golfito has a hospital.