Conchal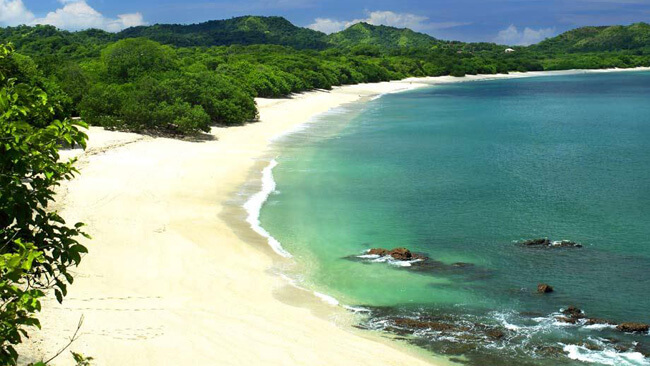 Conchal at a Glance
Ideal for:
Families

Couples

Adventure Seekers

Nature Lovers

Relaxation

Luxury Retreats 
Nearby Activities:
Scuba Diving & Snorkeling

Sport Fishing

Boogie Boarding & Surfing

Sea Kayaking

Paddle Boarding

Golfing

Sailing

Wildlife Tours 
Nearby Attractions:
Towns and Beaches of Flamingo & Tamarindo

Rincon De La Vieja National Park

Tamarindo Estuary/Mangroves

Palo Verde National Park & Tempisque River

Miravalles Volcano

Barra Honda National Park 
Special Features:
Conchal get's its name from the Spanish word for shell: "concha". The white sand and tiny shell particles arguably make this destination one of the most beautiful beaches in Central America. Conchal has repeatedly been ranked as a top destination to experience by several well-known travel review companies. Billions of shells that have washed up and repeatedly softened by the ocean and crushed into tiny vibrant sand, truly makes this a unique beach and one worth visiting. The turquoise waters and calm break make this a great destination for all travelers – be sure to snorkel in the crystal waters!
Fast Facts
Region: Guanacaste & The North Pacific
Landscape: Beach & Dry Tropical Forest
Closest Airports: Liberia (LIR) International and Tamarindo (Domestic)
Altitude: Sea Level
Average Temperature: 75º-92º F (23º-33º C)
Conchal is a top destination for those seeking a calmer, white sand beach destination. It's location in the North Pacific region of the country, in the province of Guanacaste, provides visitors an opportunity to experience a dry tropical forest. Conchal is more of a beach destination than a town. However, visitors can access the local fishing town of Brasilito, which is located a short 1 km (1/2 mile) north. It's a lively, small 'Tico' (Costa Rican) fishing village that has a few small souvenir huts and marisquerias (seafood eateries).
Conchal is ideal for those seeking a relaxing beach stay. Although only a short 20 minute drive to the larger surfing town of Tamarindo, Conchal does have a more remote feeling. You're separated from the hustle and bustle of the local towns and can often be the only individual walking certain stretches of the white sand beach. Strolls along the beach and through the forested areas often allows guests a glimpse at a sloth hanging from a tree or to experience the curiosity of one of the various species of monkeys that make this area their home.
All types of activities are available in the region for those wishing to stay in the Conchal area. Water sports to hiking in the local volcanic region of the Rincon De La Vieja National Park, keeps visitors in touch with the natural beauty and diversity of the country. Although Conchal is a dry tropical forest, visitors can travel to local park areas to experience the rainforest environment and more!
The pristine coastline with it's sugary sand and vibrant water is a beach lovers dream. Palm trees dance above lounge chairs provided by the few properties that have access to this beautiful beach. It's an ideal destination for all types of travelers and a must see for those seeking the tranquility of a truly gorgeous Costa Rican beach.
Attractions & Places to See
Crashing waves, the echo of a howler monkey from the forest, the clicking or palm tree branches as the breeze hits them is what is heard in Conchal. Away from the town centers or any large highways or vehicle cladded roads is where this little chunk of paradise awaits you. The views of the expansive ocean, with it's turquoise and green waters… speckled with sailboats, fishing canoes and various islands is what encompasses the view from the land. From this gorgeous location, you can experience:
● The expansive beach of Conchal itself and its far edges with volcanic rocks boarding it's bay.
● The neighboring expansive beaches of: Flamingo, Tamarindo, Sugar Beach, Playa Grande.
● National Parks including Rincon De La Vieja, Barra Honda and Palo Verde
● Local towns of Brasalito, Flamingo and Tamarindo
Activities & Things to Do
This location has a little bit of everything for everyone, even with it's more remote feel. Those seeking the thrill of a whitewater rafting excursion, cave exploration or deep sea fishing or diving or those more interested in a beach stroll, paddle boarding session or even a relaxing massage on the beach, it's all at your fingertips. Here are some of the top activities for this region:
● Bird & Wildlife Watching
● Cave Spelunking
● Ocean Kayaking and Paddle Boarding
● Hiking or Mountain Biking
● Scuba Diving or Snorkeling
● Mangrove or River Boat or Kayak Tours
● White Water Rafting
● Horseback Riding
● Golfing
Day Trips
Conchal is an excellent home base for day trips. Here are a few of our favorites, just 1-2 hours from the properties at Conchal:
● Rincon De La Vieja National Park – a rainforest and volcanic region with great hiking, horseback riding opportunities and canopy ziplining. Visitors can experience natural thermal hot springs, mud baths and more! (96 km/60 miles)
● Palo Verde National Park – a (85 km/52 miles)
● Whitewater rafting – on the Tenorio or Colorado River.
● Sport fishing – take your pick of inshore or offshore adventures or river fishing.
● Barra Honda National Park – Ever tried cave spelunking? This is your spot!
Wildlife & Nature
Monkeys, sloths, tropical birds, reptiles and marine life can be seen in the general Conchal beach area. For more intensive wildlife viewing opportunities, Palo Verde and the Rincon De La Viaje region provide more opportunities. A ride on the Tempisque River in the Palo Verde National Park for example provides nature lovers a closer look at some of Costa Rica's most notable residents – toucans, macaws, parrots flying overhead to crocodiles swimming beside the boat and basking in the sun on the banks of the river.
Best Time to Visit
The North Pacific is great location for travel year round. Costa Rica does have distinct seasons – the drier season and a green season which does tend to see more rainfall. However, these should not deter visitors from choosing Conchal as a destination. May is the beginning of the green season here in Costa Rica, but it's a transitional month, as are June, July and August. With each passing month, the amount of rainfall does increase – the rainiest being the end of September, into October to the tail end of November. Costa Rica begins transitioning into the dry season the start of December. Generally during the transition months, the weather patterns follow very beautiful sunny mornings and early afternoons… an afternoon rain shower followed by a clear beautiful evening. Many travelers tend to prefer the transitional months or "green season" because of the lush, green landscape of the country.
Where to Stay
Properties are limited in the Conchal area; however, those that exist there provide some of the nicest of accommodations and experience. Conchal has two main properties that provide direct beach access and is home to arguably the nicest all inclusive property in Costa Rica, The Westin. Neighboring this all inclusive beach resort is the Reserva Conchal property which provides a variety of accommodation types, from smaller luxury condos to 3 bedroom penthouses to 5 bedroom private villas.
Restaurants and Nightlife
Because the Conchal area is away from town centers, properties provide dining options on site. At the Westin for example, the property is all inclusive – providing all meals, snacks and beverages. Reserva Conchal also has an on site restaurant that provides a menu for all meals and snacks. Visitors can certainly venture into the local town of Brasilito to one of the local restaurants there, especially if they're in the mood for fresh seafood! The town of Flamingo or Tamarindo also provide a wide variety of dining options from local Costa Rican fare to other diverse options like Italian, American, Caribbean and more! Beach vendors are also available on Conchal – serving grilled kebabs, fresh 'ceviche', cold coconut water served from the coconut itself, the local version of the snow cone… or even beers, mixed drinks, and other varieties or local fruits and snacks!
For the best nightlife options, head to the town of Tamarindo. There are a wide variety of discos, beach bars and live music venues open each night.
Services & Infrastructure
Public transportation: Buses run from the Liberia area to Tamarindo and Flamingo, passing Brasalito along the way. Taxis are also prevalent.
Public amenities: No public bathrooms or other services available directly on the beach at Conchal.
Shopping: Vendors selling souvenirs can be found on the beach of Conchal. For more larger shopping establishments, Tamarindo is the best option. A few small grocery stores are located in the town of Brasalito and a larger grocery store is located on the highway to Tamarindo, about a 15 minute drive away.
ATMs: Can be found at local banks between the town of Brasalito and Flamingo or on the way to, and in the town of Tamarindo.
Gas stations: Two miles east of the town of Huacas, there is a 24 hour Oasis Exxon – partway between the Flamingo/Conchal area and Tamarindo.
WiFi or Internet cafés: Many mid-range and upscale hotels and restaurants offer free WiFi.
Cell Phone Reception: Some Reception
Restaurants: Some options in local town areas and on site at hotels. For a wider range, head to the town of Tamarindo.
Nearest medical facilities: Costa de Emergencias Hospital and Pharmacy is located at the crossroads of Huacas. Tamarindo also has local clinics. The Westin has an on site doctor as well.
comments powered by

Disqus