Colones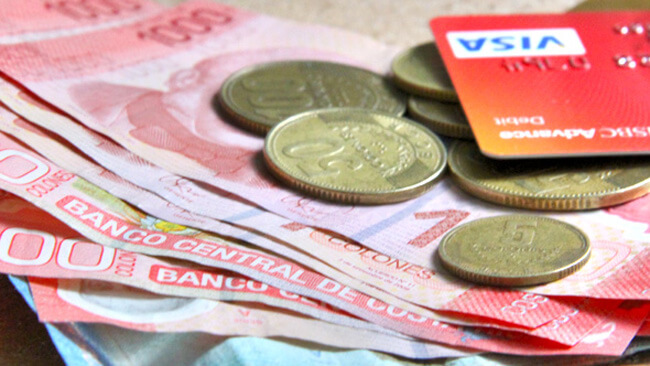 Colones is the official currency in Costa Rica. The coin is named after Cristobal Columbus -the admiral that discovered Costa Rica in 1502, and was established in the first decades of the XX century. The design of the first coins appeared in 1935 and remained without changes until 1978, this included national symbols so as the coat of arms.
The Central Bank of Costa Rica determinates the value of Colones with the Exchange Rate Band System. In which the exchange rate has a floor and a roof, so, all financial entities in Costa Rica can't exceed the amount they paid or collect when sell or buy dollars.  Every day banks update the exchange rates; therefore, the official exchange rate can be checked in the internet and in newspapers.
During the colonial times, "cacao seeds" were implemented as the coin. Later on, in the 1840 decade, coffee plantation workers were using "coffee tickets" to exchange goods in shops.
Since 2012 the bills have a new colorful design inspired in wild animals, introducing new patterns with the sloth, the hummingbird, the morpho butterfly and the white-headed capuchin monkey. This innovative design was also created with new materials, in order that visually disabled people can distinguish the bills.