Churches in Costa Rica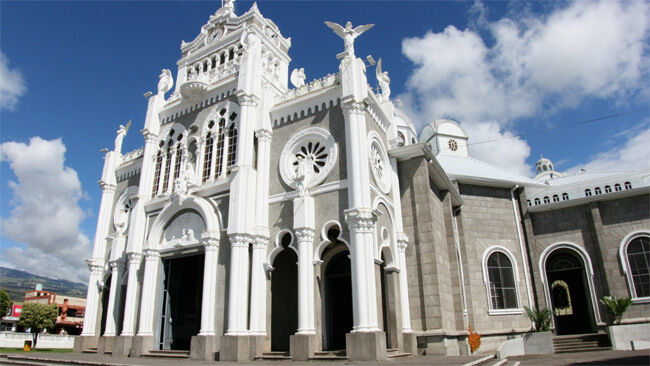 Churches represent one of the most endearing architecture displays in Costa Rica. The different styles, materials and periods represented in the buildings can be seen as journey through the country´s history.  On top of this, most of them have become icons, thus cultural and religious local activities take place around them. Churches also have taken and important role shaping the identity of Costa Rican towns.
Most of them are a worth-while visit. The top five that you don´t want to miss are:
The Cathedral in Cartago–Nuestra Señora Reina de los Angeles
The legend of the Virgin of Los Angeles, made this cathedral the icon of Costa Rican Catholic church. The beautiful complex was erected in 1781 by a group of Spanish settlers, and  houses "La Negrita", the legendary figurine of the Costa Rica's patron saint, La Virgen de los Ángeles. Every August 2nd thousands set off on a pilgrimage, and walk from all parts of Costa Rica to Cartago, to commemorate the first miraculous appearance of La Negrita statue,  in 1635.
Saint Francis Labrador Parish Church
Located in Coronado, this church is a priceless architecture work inspired in the neo-gothic trends. The exquisite details in the Church portrait the main characteristics of the gothic style, including the pointing archs,  height and majesty.
The Metropolitan Cathedral
While doing sightseeing  in San José, a great stop will be the Metropolitan Cathedral located in the heart of San Jose, a few blocks from the National Theater and across the street from the lovely Melico Salazar Theater. The original church built in 1871 was destroyed in an earthquake, and the recent one has a mixture of styles.
San Ramon´s Parish Church
This magnificent church with gothic features had a long process to be be built. The process started since 1925, and was consacrated in 1954. The church was entirely built with the work of the locals. The design so as the materials came directly from Germany and were transported from coast to San Ramon in ox carts.
Grecia´s Church
This church became famous as the first and only, built fully with iron. The majestic structure was built on this material due to the determination of the citizens, who lost two previous churches on different earthquakes. The current one was built in 1890.
comments powered by

Disqus