Chirripo National Park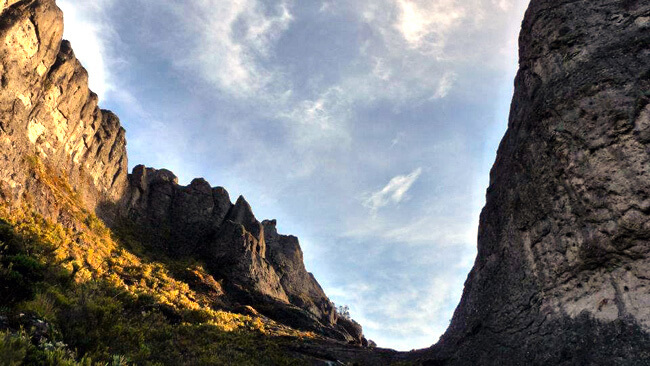 Fast Facts
Region: Southern Zone Highlands
Closest Airports: San Jose (SJO)
Altitude: 3 000 – 12 538 ft (900 – 3 821 m) Above Sea Level
Average Temperature: 40º-75º F (4º-23º C)
Landscape: Premontane Tropical Wet Forest, Cloud Forest, and Mountain Páramo (an alpine tundra ecosystem)
Chirripó National Park is located in the Talamanca Mountain Range, about 151 kms. from San José, in the southeastern region of the country. The park is home to the highest peak in Costa Rica: Cerro Chirripó (12,538 ft.) a favorite of mountain climbers and hikers. The national encompasses parts of three of Costa Rica's provinces and contains at least five eco-systems including subalpine wet forest.
Part of what makes this park appealing to some is that it demands a lot from visitors, meaning it's not your usual "walk and take in the sights" tourist spot, in order to reach the Chirripó summit, visitors have to walk a 16 kms. uphill trail, after which another 5 kms. await them before reaching the mountain peak.
Weather in this region varies according to the season, with the lowest recorded temperature reaching 14° F and the highest 80° F. Nights can get quite chilly and foggy, which is why visitors who stay overnight should always be accompanied by expert guides. In 1983 the park was named a "World Heritage Site" by UNESCO.
Wildlife & Nature
On the way to top visitors can see over 400 bird species, more than 250 reptile species and flora that varies as they move through different habitats.
Best Time to Visit
There is a short, drier season between January and March. Average daytime temperatures are in the mid 60° F, but they often fall to freezing at night. Avoid Easter as this is the busiest time of the year. November
Services & Infrastructure
Public transportation: Yes,there are buses from San Isidro de General to San Gerardo de Rivas, where you will find entrance to the Park
Public restrooms: Yes, 5-10 hour (8.6 mile) challenging hike from the Park entrance you will reach Crestones base camp: a rustic lodge with 50 bunk beds and cold-water showers.The summit is only two hours hiking away from here.
Shopping: No. There are shops in San Gerardo de Rivas.
ATMs: No
Gas stations: No
Cell Phone Reception: Poor
Restaurants: No, there's a communal dining area in the base camp
Nearest medical facilities: There is a public clinic and several drugstores located at San Gerardo
How To Get There
From San Jose, take the Interamerican Highway south toward Cartago, following signs to San Isidro del General. Once in San Isidro, look for signs to San Gerardo de Rivas and Chirripo National Park. The San Gerardo Ranger Station is located in San Gerardo de Rivas, 13.6 miles northeast of San Isidro along a rocky, winding road. Make your reservation well ahead, as access to the park is limited to 40 entries a day. The busiest time of year is around Easter week.
comments powered by

Disqus