Arenal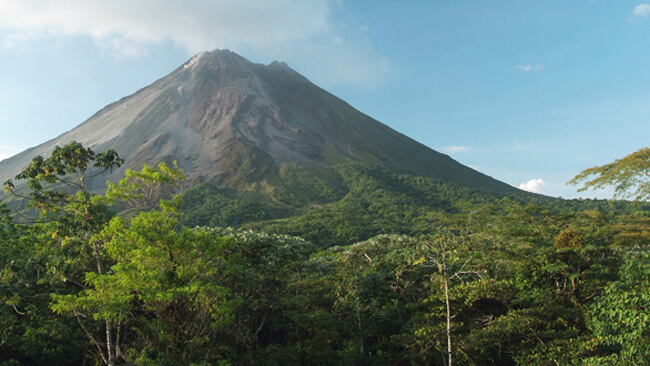 Arenal at a Glance
Ideal for:
Families

Couples

Adventure Seekers

Nature Lovers

Relaxation
Nearby Activities:
Zip Lining
White Water Rafting
Hot Springs

Fishing

Kayaking
Horse Back Riding
Hanging Bridges
Waterfall Rapelling
Coffee Tour
Nearby Attractions:
Arenal Volcano National Park

Arenal Observatory

Lake Arenal

Hot Springs

Town of La Fortuna
Special Features:
The Arenal Volcano is located in Costa Rica's lush interior northern lowlands. In a country known for it's natural beauty, the Arenal Volcano is stands out for it's breathtaking scenery and endless activities. The cone shaped volcano initially attracted visitors for it's eruptions of lava and smoke which began in 1968 . Since 2010, the volcano has been in a phase of slumber and scientists can only speculate as to how long this will last. However, there is no question that the volcano area is worth visiting.
Fast Facts
Region: Arenal & The Northern Lowlands
Closest Airports: San Jose (SJO) & La Fortuna (FON) regional airport
Altitude: Feet (Meters) Above Sea Level
Average Temperature: 70º-86º F (21º-30º C)
Landscape: Volcano & Rainforest
The Arenal Volcano is a approximately a 2.5 hour drive from the San Jose airport and 3 hours from the Liberia airport. It is also accessible from within Costa Rica by commuter plane. The town of La Fortuna is on the eastern side of the volcano and the hotels dot the landscape surrounding volcano's base from the north. This is the largest town in the volcano area and it maintains a quaint, authentic feel. This is a good place buy souvenirs, stock up on sunscreen, bug spray, snacks, etc. There is even a clinic if needed.
The volcano is thought to have been dormant until 1968 when it surprised it's nearby inhabitants with blasts that reached up to 12 km and killed over 80 people. Following the eruption, farmers were disappointed when some of the watering holes that their cattle frequented became too hot to drink from. The geothermal activity did end up being beneficial to the area by attracting hot springs enthusiasts.
The Arenal Volcano stands at an impressive 5,300 feet. It rises up from a dense forest and is characterized by it's perfect cone shape and ash grey peak. The nearly 30,000 acre area surrounding the volcano and it's neighboring volcano Cerro Chato was declared a National Park in 1991. The volcano is flanked by Lake Arenal which is the source of 12% of Costa Rica's hydroelectric power. Temperatures average from 75-90 degrees F.
The Arenal Volcano area is a paradise for naturalists and adventurers alike. Animals inhabiting the area include monkeys, sloths,deer,tapir, jaguars, coatis and snakes. Birders will be thrilled to find that nearly all of the 850 bird species identified in Costa Rica can be found in the area. Plant life is abundant and orchids, heliconias, ferns, laurel, palms, bromeliads and strangler figs can be seen while hiking. The rugged terrain, rivers and lake provide the stage for countless activities.
Attractions & Places to See
There are a wide range of attractions in the Arenal Volcano area. Tours with transportation can be arranged to explore nature, experience the local culture, test physical limits and/ or feel the rush of adrenaline.
La Fortuna Waterfall

Lake Arenal

Venado Caves
Activities & Things to Do
The Arenal Volcano is a great place to explore the beauty of Costa Rica's forests on foot, bike, horse and ATV. For those who enjoy water sports, there are plenty of activities to choose from. For a more leisurely pace,a river float or tram can be arranged.
Zip Lining

White Water Rafting

Hot Springs

Stand Up Paddle Boarding

Fishing

Kayaking

Horse Back Riding

Hanging Bridges

Waterfall Rapelling

Coffee Tour

Safari Float
Day Trips
With so much to do in the Arenal area, it might be a challenge to find time to do everything but there are a few day trips worth considering.
Caño Negro and Rio Frio Boat Tour
Cerro Chato Expert Hike
Rio Celeste Hike
Wildlife & Nature
This is a great destination for spotting birds like toucans, parrots, hummingbirds and with some luck the resplendent Quetzal. Sloths, monkeys, toads and snakes are native to the area as well.
Best Time to Visit
The climate at the Arenal Volcano is variable. It does tend to be drier February through April although light rain gear is recommended throughout the year. Temperatures range from 75-90 F so it best to dress in light layers.
Where to Stay
The Arenal Volcano is a very popular destination with a wide variety of hotel options. They range from simple and rustic to the most luxurious resorts in the country. Although Costa Rica has excellent all inclusive hotels on the Pacific Coast, they are not common in the Arenal Volcano area, but many hotels do include breakfast with their rates.
Restaurants and Nightlife
Most of the hotels have restaurants that are open for breakfast, lunch and dinner. For even more variety, the town of La Fortuna is a taxi ride away from most of the area's hotels. Typical, Costa Rican and international cuisine is available.
If you are interested in nightlife, you can check out Volcan Outlook for dancing.
Services & Infrastructure
Public transportation: Yes, frequent buses run San José-La Fortuna (route via San Carlos is shorter than via Cuidad Quesada). Taxis work from 6 a.m. to 10 p.m.
Public restrooms: No
Shopping: Shopping is abundant, from larger grocery stores to roadside fruit stands and open-air souvenir shops. Most are open from 8 a.m. to 8 p.m.
ATMs: Yes, in the center of La Fortuna there are several Banks/ATMs
Gas stations: There are two Gas Stations available 24/7 (Gasolinera Fortuna & Gasolinera La Cristalina, 7 km away from La Fortuna downtown).
Cell Phone Reception: Reliable
Restaurants: Yes, plenty of dining options for all budgets alike
Nearest medical facilities: There is Red Cross in La Fortuna (24/7); public clinic as well as several private clinics and at least three drugstores located at La Fortuna downtown, open until 8 p.m.
How To Get There
Fly: Two regional airlines fly into the La Fortuna (FON) airport. The most frequent flights fly to/from San José, but other connections are available.
Bus: Public buses to La Fortuna leave San José and San Ramon several times per day. The trip takes about 4 hours (1.5 hours from San Ramon), and costs under $10. Call 2222-0064 for updated schedules and fares.
Drive: The Highway to San Ramon offers the fastest, most direct route from San José to LA Fortuna. From San José, take the Pan American Highway north toward San Ramon. After San Ramon, take exit on Route 702. La Fortuna is just an hour away from San Ramon, and the entrance to the National Park is another 20 minutes northwest of La Fortuna town.
comments powered by

Disqus