Arenal Volcano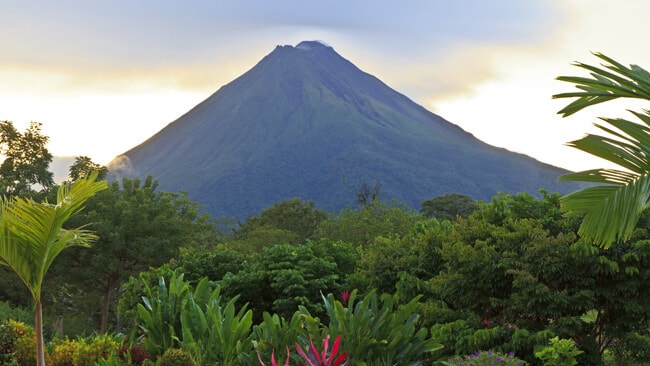 Arenal Volcano at a Glance
Ideal time to visit:
Year-round, with July and Nov-Dec as best months and Sept-Oct are two months to avoid
Nearby Activities:
Zip Lining
White Water River Rafting
Hot Springs
Fishing
Kayaking
Horse Back Riding
Hanging Bridges
Waterfall Rapelling
Coffee Tours
Nearby Attractions:
Arenal Volcano National Park
Arenal Observatory
Lake Arenal
Hot Springs
La Fortuna
Special Features:
Serving as the picturesque, perfectly cone-shaped backdrop for the area, Arenal Volcano was Costa Rica's most active volcano up until 2010. Now dormant, it is still one of the country's most visited attractions. Known as the adventure capital of Costa Rica, the region of Arenal has countless activities and tours for visitors of all ages.
Fast Facts About Arenal Volcano
Region: Arenal & The Northern Lowlands
Closest Town: La Fortuna (25 min to the entrance of the Arenal Volcano National Park)
Volcano Altitude: 5437 ft (1657 m) above sea level
Closest Airports: San Jose (SJO) & La Fortuna (FON) regional airport
Average Temperature: 70º-86º F (21º-30º C)
At 5,400 feet, Arenal Volcano is the most iconic volcano in Costa Rica. Considered a relatively young volcano, it is estimated to be about 7,000 to 7,500 years old and was formed by the now extinct Chato Volcano. Arenal is an andesitic stratovolcano and boasts a picture-perfect cone shape which can be seen from most of the hotels and attractions in the surrounding area. It features one crater which spans about 460 feet.
On July 29, 1968 Arenal unexpectedly erupted after being dormant for hundreds of years. This massive eruption caused significant damage, wiping out the town of Tabacon and leaving 5 square miles covered in lava, rocks and ash. After this eruption, the volcano stayed mildly active until July 2010, and visitors to the area could witness small eruptions and lava flow. Since 2010, however, the volcano has been dormant, and no lava flow or eruptions can be seen currently. Smoke from the top of the crater can still be seen from time to time.
Although it has not been active for a few years now, it is not possible to get up close and personal with the volcano. There are, however, wonderful guided trail hikes through Arenal Volcano National Park that follow around the base of the volcano where visitors can explore the dried lava fields and amazing flora and fauna in the area. These hikes are great for wildlife viewing, birding, and photo opportunities.
One of the most popular reasons to visit Arenal Volcano (besides all of the adventure activities in the area) are the wonderful volcano heated hot springs that come from the geothermal activity beneath Arenal. There are many hotels that feature their own private hot springs, and other off-site hot springs that can be visited with a full-day or half-day pass.
Best Time to Visit
Since there is no distinct weather pattern in Arenal, it is great to visit this region any time of year. There is always a chance of rain in this area, but that's what keeps it green and lush year-round. It can get a bit cooler here in the evening, so a light jacket or windbreaker is a good idea.
Birding & Wildlife Watching
Arenal Volcano National Park is a great place for wildlife viewing and birding in Costa Rica. Costa Rica boasts about 850 bird species in total, and many of them can be found near Arenal Volcano. Among the many bird species, you are likely to see these around Arenal Volcano: Green Honeycreeper, Shinning Honeycreeper, Crimson-collared Tanager, Passerines Tanager, Hepatic Tanager, Orange-bellied Trogon, Black-crested Coquette, Green Thorntail, Violet-headed Hummingbird, Smoky-brown Woodpecker, Golden-olive Woodpecker, Gray-headed Kite, White Hawk, Crested Guan, Great Curassow, Gray-headed Chachalacas, and tons of Montezuma Oropendolas. On the trails where there is primary rainforest, you might see Spotted Antbird, Dull-mantled Antbird, Bicolored Antbird, Nightingale Wren, Plain-brown Woodcreeper, Streak-crowned Antvireo. Striped-breasted Wren, and Black-headed Nightingale-Thrush. The Respendent Quetzal has also been seen in this area on occasion.
It might also be possible to spot Howler Monkeys, Jaguar, Coati, deer, and snakes when wandering on the trails in the areas surrounding Arenal Volcano.
---
Services & Infrastructure near Arenal Volcano
Arenal Volcano & La Fortuna have most amenities you would expect from a popular tourist town:
Public transportation: There's no public transportation between La Fortuna and Park entrance. Taxis work from 6 a.m. to 10 p.m.
Park Admission Fees and Hours: Arenal Volcano National Park is opened from 8:00 am to 4:00 pm and has a $10 entrance fee. Tel: 2461-8499.
Public restrooms: Yes, next to the park entrance.
ATMs: Yes, in the center of La Fortuna there are several Banks/ATMs
Gas stations: There are two Gas Stations available 24 hrs (Gasolinera Fortuna & Gasolinera La Cristalina, 7 km away from La Fortuna downtown).
Cell Phone Reception: Reliable