Arenal Volcano National Park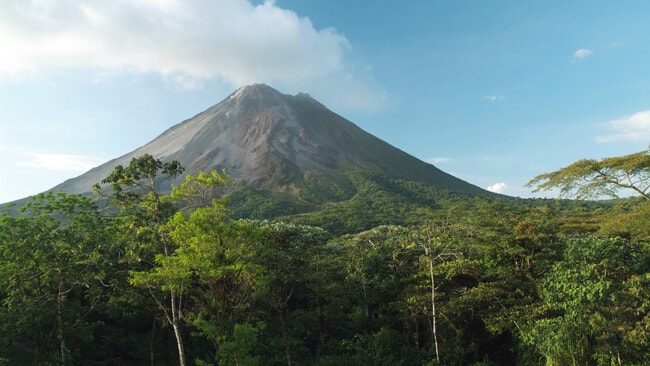 Arenal Volcano National Park at a Glance
Ideal time to visit:
Year-round, with July and Dec-Nov as best months and Sept-Oct are two months to avoid
Nearby Activities:
Zip Lining
White Water Rafting
Hot Springs

Fishing

Kayaking
Horse Back Riding
Hanging Bridges
Waterfall Rapelling
Coffee Tours
Nearby Attractions:
Arenal Observatory

Lake Arenal
Hot Springs
La Fortuna
Special Features:
The Arenal Volcano and it's National Park is on every tourist's must list and while its perfect cone is sometimes hidden away under the clouds, no one ever leaves this area disappointed, quite the opposite. The park protects sixteen reserves that are located between the Tilaran and the Guanacaste mountain ranges. The Arenal Volcano is said to be one of the most active volcanoes of the world
Fast Facts About Arenal Volcano National Park
Region: Arenal & The Northern Lowlands
Closest Airports: San Jose (SJO) & La Fortuna (FON) regional airport
Altitude: 2400 ft (1800 m) Above Sea Level
Average Temperature: 70º-86º F (21º-30º C)
Landscape: Volcano & Rainforest
The trails of the Arenal Volcano National Park will take you through magnificent secondary forests and lava fields. The activities are being watched closely by the park rangers and they will not let you pass on certain trails and on occasion will close some of them when they feel that they could be dangerous. Along your path you are likely to encounter quite a few wild and exotic creatures; Howler monkeys, tapirs, white faced monkeys, snakes and many species of birds including parrots, macaws, brown magpies and orioles. Bromeliads, orchids, ferns, palms, Ceibas, Laurel and Guayabo del Monte are just a few of the plants and trees commonly seen in the region.
There is a lot more to the Arenal Volcano National Park than the volcano itself. Check out the hiking tours in La Fortuna or with your hotel. One popular tour is to the Chato Volcano; it provides an exciting hike through the jungle all the way up to the crater. This extinct volcano erupted for the last time over 3500 years ago.  Its collapsed crater hides a perfectly shape lake and a gorgeous waterfall; people like to dive in the refreshing cool water, a welcome change following the sometimes challenging climb.
Arenal is also popular for its divine Hot Springs. The Tabacon hot springs are maybe the most popular ones. Arenal is without a doubt the most dramatic, astonishing active volcano of Costa Rica. Tourists pour from all over to watch the red lava flows and the red boulders that glow in the darkness of the night. In July 29 1968, Arenal had a massive eruption that burst open 3 distinct craters that changed the look of the western flank of the volcano forever. The crater measured an astonishing 1000 meters across. Hot rocks and toxic gases spread out over 12 kilometers, destroying the towns of Tabacon and of Pueblo Nuevo and killing 87 people. In 1973 the main eruptions moved on to the Crater C, and it has remained active ever since.
The beautiful lake of Arenal, a number one destination for avid wind surfers, also supplies the country with 12 percent of its hydroelectric energy; this is a man-made lake.  Across from it wind farms provide the country with yet more energy while the Miravalles Volcano Geometric Plant catches into the region's volcanic activity.  If you are driving or riding a bike, a tour around the lake is as pleasant as can be, the green landscape is mesmerizing and the little town truly enchanting and picturesque.
The climate of Arenal really varies from day to day as it seems to be swinging between the influences of the Pacific and of the Atlantic oceans, but it can be said that the rainy season starts in May and last until January.
Wildlife & Nature
This is a great destination for spotting birds like toucans, parrots, hummingbirds and with some luck the resplendent Quetzal. Sloths, monkeys, toads and snakes are native to the area as well.
Best Time to Visit
The climate at the Arenal Volcano is variable. It does tend to be drier February through April although light rain gear is recommended throughout the year. Temperatures range from 75-90 F so it best to dress in light layers.
---
Services & Infrastructure in Arenal
Public transportation: Yes, frequent buses run San José-La Fortuna (route via San Carlos is shorter than via Cuidad Quesada). Taxis work from 6 a.m. to 10 p.m.
Public restrooms: No
Shopping: Shopping is abundant, from larger grocery stores to roadside fruit stands and open-air souvenir shops. Most are open from 8 a.m. to 8 p.m.
ATMs: Yes, in the center of La Fortuna there are several Banks/ATMs
Gas stations: There are two Gas Stations available 24/7 (Gasolinera Fortuna & Gasolinera La Cristalina, 7 km away from La Fortuna downtown).
Cell Phone Reception: Reliable
Restaurants: Yes, plenty of dining options for all budgets alike
Nearest medical facilities: There is Red Cross in La Fortuna (24/7); public clinic as well as several private clinics and at least three drugstores located at La Fortuna downtown, open until 8 p.m.