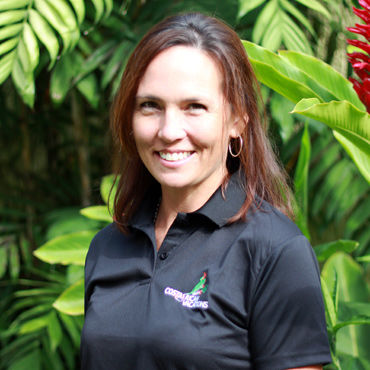 Client Satisfaction:
4.86
/ 5.0
Tara Cabatingan
Tel: 1-800-606-1860 (ext:1217)
Hometown: Auburn, Maine
About Me: I came to Costa Rica in 1992 under the guise of learning more Spanish but in truth, everything about the culture intrigued me. I was fortunate to meet my Costa Rican husband on that trip & began the transition from vacation to creating a home and life here. We live in the mountains of Heredia with our 16 year old daughter, 13 year old son & our dogs Penny & Ben. My favorite outdoor activities are hiking, horse back riding & swimming. The next thing I would like to learn is scuba diving!
My Favorite Thing: Costa Rica's outstanding feature is it's natural beauty. For me the ultimate way of experiencing it is by taking it in on a hike or another strenuous activity. After that I like to relax and enjoy the stunning scenery with good food, wine and company. Fortunately this formula can be applied with success in nearly any corner of the country!
My Top Tips: I want to provide the best possible vacation experience for my clients. Each client is unique & I love that I can talk to someone, hear what their vision of a great vacation is & with my knowledge of Costa Rica put together a package that best suits their needs. With that in mind my tip is that once you have arrived in here, you can relax, disconnect from your worries & enjoy what we have planned. This strategy is working because I just received an award from our company for Client Satisfaction!
My Articles
The Arenal Volcano is located in Costa Rica's lush interior northern lowlands. In a country known for it's natural beauty, the Arenal Volcano is stands out for its breathtaking scenery and endless activities.