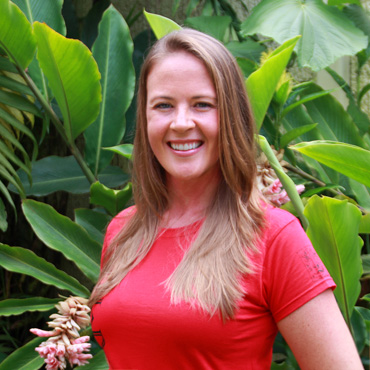 Our Client Satisfaction:
4.77
/ 5.0
Hometown: Southern California
About Me: Originally from Southern California, I landed in Manuel Antonio, Costa Rica after completing a backpacking trip throughout South America. Manuel Antonio has been my home since 2006 and I absolutely love the beauty of the rainforest & of course the gorgeous beaches! When not helping people plan their vacations to paradise, I enjoy running, Pilates, spinning classes, time with friends, speaking Spanish, & of course lounging on the beach or by a pool!
My Favorite Thing: Hiking through the rainforest. One of my favorite activities is my morning walk through the rainforest & down to the Manuel Antonio beach & experiencing the wonders of the jungle along the way! Or, spotting the magical Blue Morpho butterflies which take my breath away every time I see one. I also love seeing monkeys, sloths, birds, & all of the magnificent flowers & plants that make up this gorgeous place I call home. I am so grateful to live in such a beautiful area filled with natural wonders.
My Top Tips: '- Keep an open mind & be patient-the pace of life in Costa Rica is MUCH slower than at home! - Embrace the local culture-you will find that Costa Ricans (Ticos) are very warm hearted people - Try Gallo Pinto-the traditional plate eaten for breakfast - Taste as many exotic fruits as you can-the produce in Costa Rica is delicious! - Say Pura Vida as much as you can-you will feel better afterwards! - Do at least one adventure activity like White Water Rafting or Canopy Ziplining!'