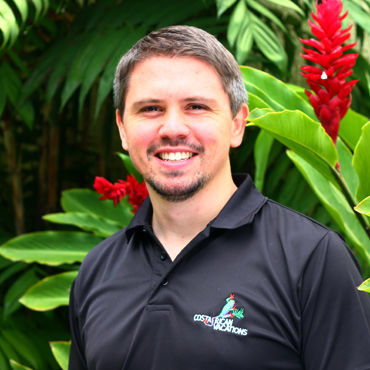 Our Client Satisfaction:
4.77
/ 5.0
Hometown: Woking, UK
About Me: I moved to Costa Rica in 2005 after my Costa Rican wife could not stand the English weather anymore. I am an avid fisherman, triathlete and football (soccer) player, who is also a Liverpool FC supporter. Typically, you will either find me running around the office or running around a football pitch. I have a young daughter and enjoy travelling around the world with my family. My favourite destinations so far are Bali, Greece and Guatemala.
My Favorite Thing: My favourite things about Costa Rica are the people and the diverse landscape. Costa Rican's are some of the friendliest people you will ever meet and always want you to see the beauty of their country. They are proud of having no Army since 1948 and having more than 5% of the world's biodiversity. This can be seen in the wildlife that every visitor to Costa Rica will see.
My Top Tips: Find out when the local market is on and go to taste some of the exotic fruits and vegetables that Costa Rica has to offer.