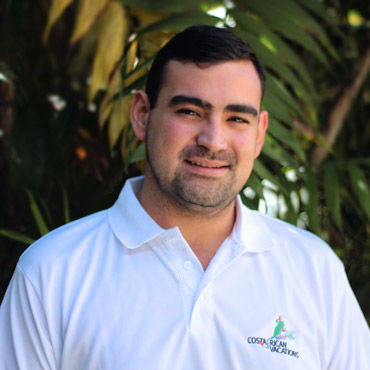 Our Client Satisfaction:
4.77
/ 5.0
Ricardo Carballo
Tel: 1-800-606-1860 (ext:1516)
Hometown: San Jose, Costa Rica
About Me: Born and raised in Costa Rica, for the first four years I lived and grew up in Puerto Viejo, Limon and simply loved the nature lifestyle and living in the beach. Due to work and studying living in the city brings me every now and then to different places in Costa Rica, I prefer beaches to mountains and enjoy the sun, ocean and lying down in the sun.
My Favorite Thing: My favorite thing is that for being such a small country we have so many natural beauties with the facility of short traveling and many activities to do, such as adventure, family, relaxation, cultural, sports among others, however I do not change the beach as my first option.
My Top Tips: My top tip for traveling in Costa Rica is to combine at least one beach and one mountain destination to see a little bit of everything and off course to do unforgettable activities such as zip lining, ATV´s, horseback riding or see a beautiful sunset in a catamaran for once in a lifetime vacation.