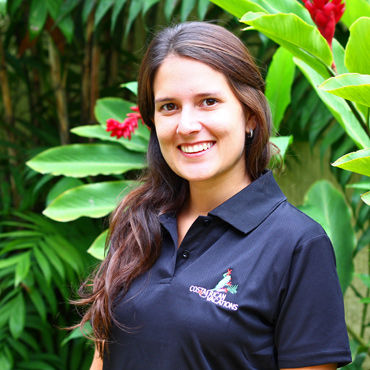 Our Client Satisfaction:
4.77
/ 5.0
Natalia Matamoros
Tel: 1-800-606-1860 (ext:1611)
Hometown: San José, Costa Rica
About Me: Costa Rica is one of the most beautiful countries in the world! Since I was a little girl, I fell in love with nature which is why I decided to make a career in tourism and show people how amazing my country can be. I love all of Costa Rica but most of all, I love the Osa Peninsula & San Carlos. I enjoy being outdoors, traveling & discovering new touristic areas inside the country, & learning about other cultures all around the world!
My Favorite Thing: My favorite thing about Costa Rica is its people! Generally we are gentle, spirited, friendly, educated, polite, & kind. We love receiving visitors from other countries & treating them well.
My Top Tips: '- Always book with CRV travel agency. You will not regret it! - Discover local places. You will have fun and your money will be well spent. - Enjoy every single moment instead finding bad things about your itinerary! :)'