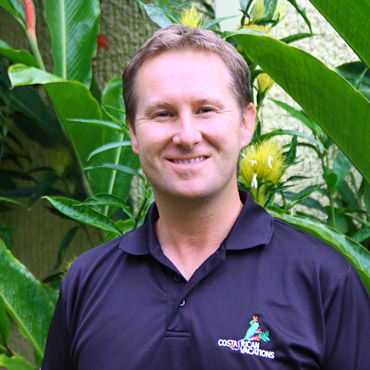 Our Client Satisfaction:
4.77
/ 5.0
Mark Fitzpatrick
Tel: 1-800-606-1860 (ext:1248)
Hometown: Glasgow, Scotland
About Me: Travel has always been my passion. I had married my Costa Rican wife in 2004 and we had long held the idea that we would move to Costa Rica at some point when the time felt right. We made the move last year and have never looked back. The weather is great, the country is so incredibly diverse and beautiful, & I can raise my son with his Costa Rican family. I'm a massive Glasgow Celtic Football Club fan. I enjoy listening to music and mountain biking. I love my job as a Travel Consultant.
My Favorite Thing: Go visit Arenal Volcano! The first time you see it, well it's simply got the WOW factor. I first visited Arenal in 2004 and always made a point of returning every year when visiting Costa Rica. Surrounded by lush rain forest and natural hot springs, the volcano makes an incredibly imposing presence! I'm so lucky to have witnessed it live before it became inactive! Nothing beats that loud rumbling noise and watching the hot rocks tumble down the side of the volcano. Make sure you visit!
My Top Tips: Be open to visiting more than one location! Costa Rica is more than lazing at the beach (even though the beaches are awesome & I also love chilling out by the pool with a nice cold refreshment). Have an open mind to trying something new! Costa Rica is unlike most countries. Where else can you enjoy such natural beauty that's so accessible? In a 7 day vacation you can easily explore Volcanic regions, cloud forests, rainforests, National Parks & experience all the adventure tours that go with it!