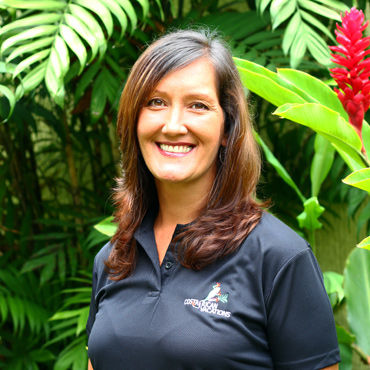 Our Client Satisfaction:
4.77
/ 5.0
Hometown: Los Angeles, California
About Me: In 2008, I decided that the city life and Los Angeles were no longer for me and set my sights on Costa Rica in search of a simpler, more meaningful life. I sold everything I owned (including my house, my business, cars, etc.), packed up three suitcases and five dogs, and took a huge leap of faith to move here. I haven't looked back since. I love the outdoors and nature, and in my spare time, you can find me out on long hikes with the hiking group I started here, walking my dogs, exploring the country, or spending time with the many wonderful friends I've made here.
My Favorite Thing: From mountains to beaches, forests to picture-perfect landscapes, Costa Rica has it all. Seeing animals in their natural habitat, interacting with the Ticos (some of the nicest people you will ever meet), eating fresh fruit from the trees, swimming under waterfalls, sitting on secluded beaches, soaking up the sun and near-perfect year-round climate, and the laid back 'pura vida' lifestyle are just some of the many things I love about this incredibly diverse country.
My Top Tips: Be sure you get out and explore, meet the people, eat the local food, and take in all the natural beauty that surrounds you. Visit at least two locations if you have the time--each part of Costa Rica is unique and beautiful. If you've never zip lined or rappelled down a waterfall, I highly recommend it - you'll be glad you did. There's so much to see & do here, take in as much of it as you can. I guarantee your time spent here will leave you with lifelong memories.