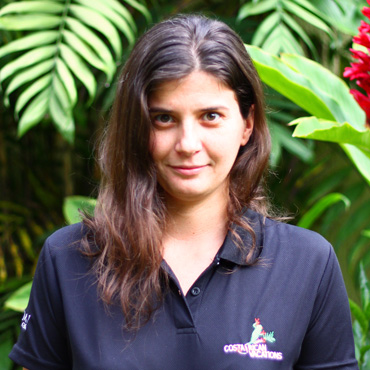 Our Client Satisfaction:
4.77
/ 5.0
Hometown: Belgrade, Serbia
About Me: Having a background in visual art, videography & curatorial practice, the most rewarding life experience for me is visiting new places, soaking up nature & discovering its wonders, & learning about the local customs; sometimes with, sometimes without the lens in-between.
My Favorite Thing: Costa Rica allows experiencing diverse climates, cultures & spectacular nature, all in a very short distance to each other. With dense forests allowing shy, scattered towns in between, it shows its tameness & wilderness side by side. The relaxed, 'ma̱ana' attitude of Ticos can teach you to stop worrying & enjoy yourself for a day.
My Top Tips: Try out some of the street food, like the green mango cut up in pieces that vendors sell packed in clear bags. It goes with salt, lime juice & chili - a mind blowing experience for the first-timers! 'Chicharrones' is a must for any carnivore out there... If locals are lining up to buy it, it's good food!
My Articles
Making local crafts is one of the few profitable economic activities Costa Rican indigenous tribes pursue. This ancestral heritage is more than just a manner to provide incomes.
Esterillos is situated on the Central Pacific coast, about half way between Jaco and Manuel Antonio. It's known for its miles of secluded beaches and the little beach village of Esterillos Oeste.
The southern Nicoya Peninsula possesses two jewels – the beaches of Mal Pais/Santa Teresa and the community of Montezuma. Both are reached the same way, ferry and car or by plane to Tambor, and both take up the tip of the peninsula,...