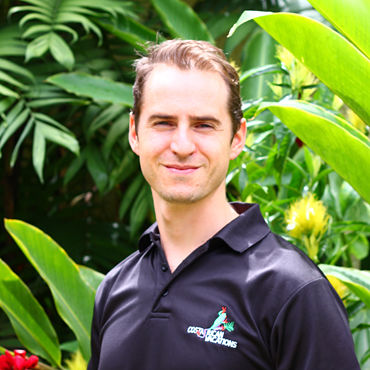 Our Client Satisfaction:
4.77
/ 5.0
Hometown: London, UK
About Me: Growing up in London with a love of surfing, diving and all things nature, I always knew I would have to leave eventually. It took me a good few years of sitting on the tube every day before I did it, but coming to Costa Rica and working with the fantastic folk at Costa Rican Vacations has been a dream come true.
My Favorite Thing: I know it's a cliche but I can't think of just one thing about Costa Rica I hold above all others. The country has given me so much and the overall quality of life that my wife (from Finland), my daughter (from Costa Rica, Finland and England) and I have is amazing. Whether it is surfing in the warm pacific, finding strange insects in my garden or just enjoying a great meal with friends in San Jose, Costa Rica delivers!
My Top Tips: If you are planning on traveling to Costa Rica my top tip would be to talk to someone who has been here already. Costa Rican businesses and activities are often not very well marketed and so unless you speak to someone who has been before you might never find the best the Costa Rica can offer.