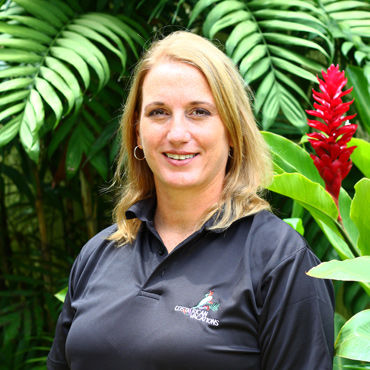 Our Client Satisfaction:
4.77
/ 5.0
Hometown: Harrisburg, Pennsylvania
About Me: I am originally from Pennsylvania, USA but am proud to have dual citizenship for both Costa Rica & the U.S. I live with my husband and 6 dogs in a quiet rural area outside San Jose. I spend my time outdoors either birdwatching, scuba diving, or playing with my dogs, otherwise; you'll find me in the softball diamond, pitching for the Costa Rica Women's National softball team. I love the Beatles, & am an avid reader. My heart's passion is helping the street dogs of Costa Rica.
My Favorite Thing: Hiking through the jungle in Corcovado National Park, binoculars & a back pack. The air is heavy with humidity, it's the greenest green you can imagine, trees that reach up so high you can't see the tops, & orchids so tiny you need a magnifying glass to tell they are a flower. Scarlet macaws fly overhead, breaking the silence, something big rustles on the forest floor... is it a tapir, a jaguar? You break into a clearing & find a crystal waterfall. Time for the most refreshing swim of your life.
My Top Tips: Take advantage of what makes Costa Rica so special. DIVERSITY! So many experiences to have in a small country. Rainforest, Volcano, beaches, wild life, night life, adventure, tranquility...you can have it all. Come with an open mind and an open spirit, and challenge yourself to try something new, see something special, and instead of just taking a vacation, create memories of a lifetime.
My Articles
From the Port of Puntarenas, to just south of Manuel Antonio, the Central Pacific area of Costa Rica is full of incredible places to explore and enjoy.
The Province of Guanacaste in North-Western Costa Rica, along with being the home to countless gorgeous beaches, holds one of the largest tracks of Tropical Dry Forest in Meso-America.
There are 2 species of hummingbirds that are ONLY found in Costa Rica; the Mangrove Hummingbird, and the Coppery-headed Emerald.