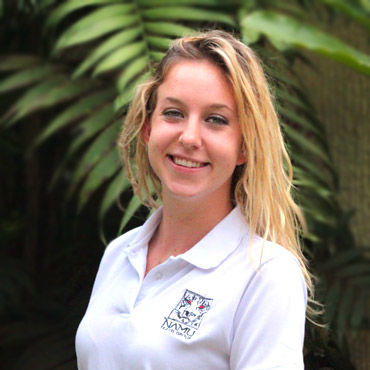 Our Client Satisfaction:
4.77
/ 5.0
Hometown: Windermere, Florida
About Me: I came to Costa Rica in 2012, after I bought my mom a trip to Guanacaste and a camera for Christmas. I ended up staying after the vacation ended, lived with a local family and volunteered at an orphanage. I moved here permanently and became a certified English teacher. After moving here, I found a more simplistic life, I realized less truly is more, and in my free time I enjoy hiking in the mountains and surfing in the Caribbean.
My Favorite Thing: Jumping into the ice cold water under a waterfall, the tropical rainforest, hiking in the mountains in Santa Ana where I live, giving love to the dogs on the street, and rafting the Pacuare River. I love the relaxed atmosphere, the warm and welcoming Ticos, and surfing at Playa Cocles.
My Top Tips: As soon as you get to your hotel, take a walk down the street and explore the local town! Embrace the Pura Vida lifestyle, and practice your Spanish with the locals, they are such friendly people, and they will probably want to practice their English with you, too! Watch the sunrise every morning and the sunset every night, and make the most of your time here by seeing as many different parts of the country as you can.