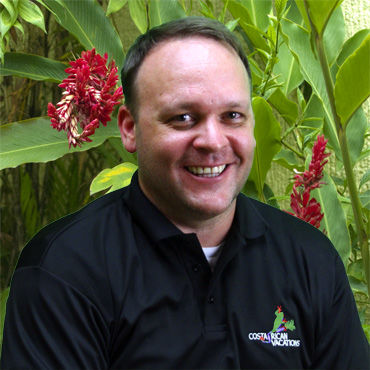 Number of vacations we have planned: 21,286
Client Satisfaction:
4.81
/ 5.0
Hometown: Dallas, Texas
About Me: I moved to Costa Rica after college (Communications Studies, Texas Tech University) & started a small jet ski tour company, selling it only to become involved in the real estate boom that Costa Rica has enjoyed for the past ten years. I've built & sold several vacation homes in the Manuel Antonio area. I am married & my wife is Costa Rican. We have a four year old daughter & currently we live in Heredia. Family life keeps me busy, but when I have time I enjoy fishing & riding my mountain bike.
My Favorite Thing: Whether you are in to sportfishing, high adrenaline water sports, nature or just relaxing at the beach there is something here for everybody. I personally enjoy just being at the beach with my family and having the chance to relax in the sun or slip in to the ocean to catch a few waves. Costa Rica is a paradise and I just feel lucky to have the the laid back lifestyle that is so prevalent here in sunny Costa Rica.
My Top Tips: My top traveling tip for arriving passengers to Costa Rica is to get to know the local culture when you can. Costa Ricans are very proud of their country & they are usually eager to show it to you. Be open to having the locals engage you when you are here. The Costa Rican people or 'Ticos & Ticas', as you might hear them call themselves, are fantastic & friendly people. Most importantly remember to relax. Life moves at a slower pace here & if you go with it you will have an amazing experience!
My Articles
Just like in the United States, Canada, and Europe, there are different types of property available to purchase, and understanding these various types is critical in the evaluation process. To help make your decision, the following...
The criteria for entering into either a concession or a management plan is based on the use of soil or zoning, which is determined by the corresponding government authority. Such authorities will divide real estate into several segments...
One of the greatest concerns of foreigners when purchasing real estate in a foreign country is to ensure that the transaction will be executed legally and that the system can ensure a lifetime use and protection of the property.