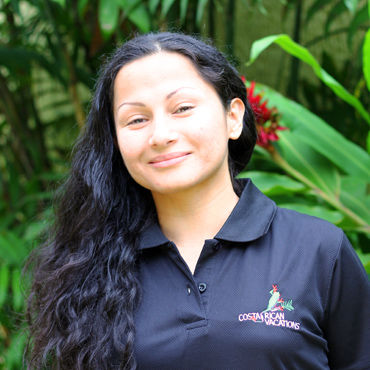 Our Client Satisfaction:
4.77
/ 5.0
Hometown: Limon, Costa Rica
About Me: I spent part of my infancy in Limon, the Caribbean side of the country; raised by my lovely grandma and four energetic aunts in a tropical setting. When I was 10 my parents decided to move to a finca (farm) in the mountain slopes of Heredia, so I found myself growing up surrounded by farm animals, wildlife and green, lots of green! When I turned 17 I decided it was time to leave the nest so I moved to the capital city San Jose and I have been living here since then...so I'm a porte̱a, I'm a country girl, I'm a city dweller, I'm a little bit of everything, all rolled into one.
My Favorite Thing: The 51,100 km2 of our country covers less than 0.03% of the Earth's surface but contains 5% of its biodiversity! In one day you can travel from a sandy white beach in Guanacaste to one of the impressive volcanoes as Arenal or Poas. It is a rich little country with forests, wetlands, and misty mountains that oozes life.
My Top Tips: If you want to experience the real Pura Vida lifestyle, dare to go for the 'off the beaten path' destinations: Osa Peninsula, Tortuguero, Savegre, etc, you wont regret it! Also remember that you play an important role as a visitor: Try local foods and buy local products to support rural areas development, never ever try to touch wild animals nor feed them, contribute with environmental causes and treat others the way you would like to be treated.