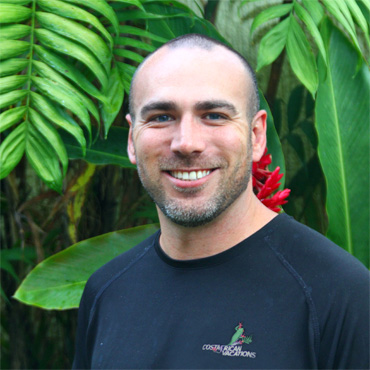 Our Client Satisfaction:
4.77
/ 5.0
Hometown: New Jersey, USA
About Me: I'd like to think of myself as an adventurous traveler having lived in three countries in the past 3 years. Originally I hale from New Jersey and spent most of my life in Tampa, Florida. One day I woke up and realized that I wanted more experiences in my life and packed up; sold everything I owned and moved to Amsterdam. Then I gained some culture living in Amsterdam, Netherlands for 2.5 years before beginning a new chapter in my life and relocated here to beautiful, tropical Costa Rica.
My Favorite Thing: With the huge variety of microclimates and elevations, it's hard to pin down my favorite thing so I'll narrow it down to two things. If I'm at one of the many beautiful beaches here, I love to grab a surfboard and hit the waves. Now if I'm anywhere near the mountains and rainforest, I will zip line into the forest and hunt out the nearest waterfall and do some repelling.
My Top Tips: With how diverse this country is, I highly suggest seeing multiple locations during your stay here so try and split your trip up in 2-3 different locations. Take your time and set up as many tours as you can to see all the wildlife like macaws, howler monkeys, dart frogs and sloths. You can see everything in regards to landscape from cloud forests, rainforests, majestic volcanoes, vast valley's and of course beautiful, sandy beaches. Lastly, make sure you book well in advance because with how popular this destination is, you can be sure that the rooms fill up quickly.