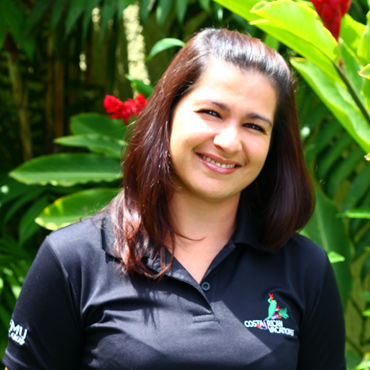 Our Client Satisfaction:
4.77
/ 5.0
Hometown: Heredia, Costa Rica
About Me: I was born in San Jose, Costa Rica, and I currently live in Heredia. My days are committed to my work and I spend my evening studying Tourism, with Travel Agencies as my major. I love eating out, I'm always fascinated by Caribbean food & I like to try out new dishes that my husband makes for me. I also like dancing & chilling out at the beach. I love my country, my niece and my two, cute little dogs: Rasta y Laila.
My Favorite Thing: I lacked sufficient knowledge of my country before I started working at Costa Rican Vacations. Today I know it's a beautiful place, full of stunning natural wonders, rivers, mountains & beaches; nice hotels, lovely & humble people that have many traditions & customs worth knowing.
My Top Tips: I know Costa Rica in & out, its people and traditions; you shouldn't leave without trying a good Gallo Pinto or a delicious Rice & Beans dish! Even a simple Empanada with cheese or beans can be amazing. Respect & take care of the animals, & help us in our efforts to keep the environment clean!