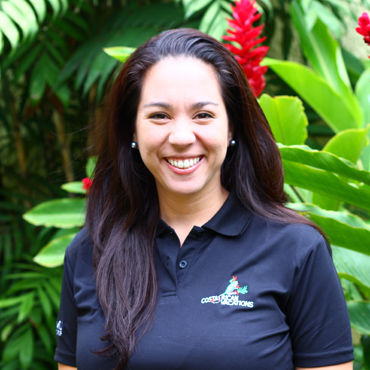 Our Client Satisfaction:
4.77
/ 5.0
Gabriela Sanmiguel
Tel: 1-800-606-1860 (ext:1247)
Hometown: Caracas, Venezuela
About Me: First time I came to Costa Rica it was for my brother's wedding and after vacationing for a couple of weeks I decided to stay for a while. Luckily enough I found a job in an amazing hotel in the rainforest (best view from my office). Few years after I moved to the city due to my career. Now I work in San Jose but live in the suburbs of San Jose with my little boy and nature is all around us, we have the best of both worlds! Forest, rivers and volcanoes still just minutes away... Got to love Costa Rica!
My Favorite Thing: The kindness of the 'ticos' towards others and nature. Their appreciation and respect for their most important resource, nature, is what I value the most. They are so proud and love their country so much, that you will automatically feel this love too.
My Top Tips: 1. Get accurate information about how long it takes to go between destinations and keep in mind that the roads are not difficult to travel on but it is tricky. This way you will have a better idea of the places you really want to see and how much time you will like to spend at each location. 2. Come for a least a week, therefore you will be able to experience the rainforest and the beach. Perfect combination! 3. Explore, explore and explore!