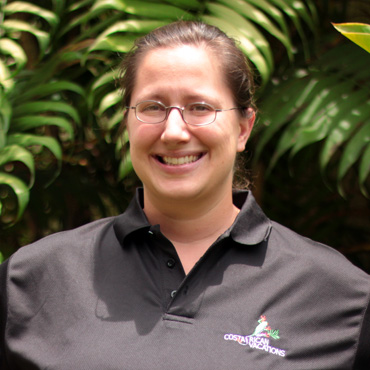 Our Client Satisfaction:
4.77
/ 5.0
Hometown: Philadelphia, Pennsylvania
About Me: I first visited Costa Rica when I was 16. After six weeks of language and cultural immersion, I had completely fallen in love with the Ticos and their country. Seven years later, I graduated into the economic uncertainty of the Great Recession ‰ÛÒ and promptly moved to Costa Rica with just two suitcases, my cat, and a fledgling writing career. A few days later, I met my now-husband ‰ÛÒ and knew I had found my forever home. I've been working as a travel writer and copywriter ever since.
My Favorite Thing: My favorite 'thing' is more a concept than an individual destination or activity: it's the sheer diversity that is Costa Rica. I never imagined I'd find a place where I could take a walk on a tropical beach in the morning and spend the evening snuggled in front of a fire. Or watch the sunrise on the Caribbean and the sunset ‰ÛÒ the same day! ‰ÛÒ on the Pacific. Rainforests, mountains, cloud forests, rivers, savannah, dry forests... Costa Rica's variety still surprises me.
My Top Tips: Don't try to do too much at once. It's tempting to jam everything you want to see into just one trip, but you really need at least three days per destination (and a day to travel, unless you fly). Trust me, Costa Rica is worth a second visit. And a third, and a fourth, and a... well, don't ask me. I wasn't satisfied until I moved here!
My Articles
Liberia is the capital and largest city in the Costa Rican province of Guanacaste, it is located 134 miles northwest of San José and is home to the country's second largest international airport, Daniel Oduber Quirós International...
Guanacaste National Park is located in the province of Guanacaste and lies adjacent to Santa Rosa National Park. This park was created in the year 1989,
With a bit of preparation, our tips on traveling as a family will take you round-trip from home to Costa Rica and back again. And what an amazing trip it will be!