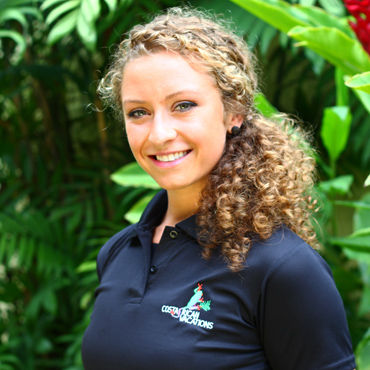 Our Client Satisfaction:
4.77
/ 5.0
Anastasia McCulloch
Tel: 1-800-606-1860 (ext:1233)
Hometown: Raleigh, North Carolina
About Me: I came to Costa Rica in 2009 to teach English and was amazed by the natural beauty and general desire to celebrate life. I really enjoy Costa Rican culture, food, festivities and coffee. The temperate year-round climate allows me to be outdoors doing what I love; Running, swimming, hiking, rappelling, kayaking, dancing, you name it! I feel very fortunate that I can help plan truly extraordinary vacations for others so they can come experience this country that I love so much.
My Favorite Thing: My favorite thing about Costa Rica is that you never run out of things to do! Some of my favorites are: - Lounging in the hot springs by Arenal Volcano - Watching surf competitions on the Pacific Coast - Kayaking in the Osa Peninsula - Hiking in the Cloud Forest right at dawn - Rappelling down waterfalls - Renting bicycles and finding the most beautiful hidden beaches along the Caribbean Coast - Lounging in a hammock and watching the storms roll in during the Green Season
My Top Tips: - Don't limit yourself to just one location. - Don't try to see it all in one trip either! Focus on 2-4 destinations at a time and make sure to enjoy them! - Do be open with your Travel Consultant. Tell them what you like, don't like and what you envision as your ideal vacation. You will be amazed with what they come up with. - Do BOOK EARLY! The majority of hotels here have less than 30 rooms and the best ones are full months in advance.