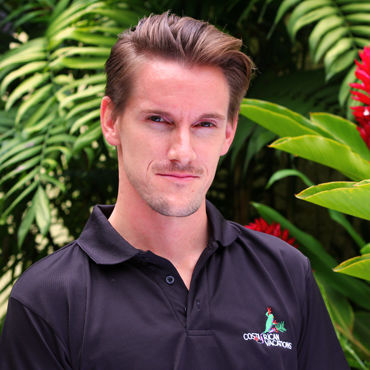 Client Satisfaction:
4.69
/ 5.0
Hometown: Devon, UK
About Me: I came to Costa Rica in 2006 with my sister after graduating from Plymouth University studying Film and Design. I was working on a Conservation Project in the Monteverde Cloud-forest when I decided to stay and teach Soccer & Art at the local school. In 2008 I moved to the Central Valley and found Costa Rican Vacations. After working as a Travel Consultant for 3 years I finally moved into Marketing where I could continue my passion for film and design and show everyone how exciting Costa Ric is. 122
My Favorite Thing: I love the geographic diversity Costa Rica offers. From the tropical rain forests down to the exotic beaches, up to the mountains that exceed 12,000 feet. For me this diversity makes for exciting journeys every other weekend! It is clear why Costa Rica makes such a great vacation destination as it has something for everyone.
My Top Tips: Practice a little Spanish, although everyone speaks English as this will go a long way to making friends here. Make sure to visit a small Cayuga boutique hotel, as the service will be exceptional and you'll learn something you would otherwise not from a larger resort. Finally make sure to try a selection of 'Casados' for lunch. This typical dish includes a wide variety of local flavors including the traditional 'Rice & Beans'. The more local it is, the better it gets!
My Articles
Potrero is a hidden jewel in the north-west of Guanacaste, named after the eponymous beach. This rural town embraces the old Costa Rican coast villages style and can be seen as a tranquil spot away from other touristy places.
Nowadays Costa Rica is famous for its gourmet coffee beans, with the famous Tarrazu considered among the finest beans in the world. Along with bananas, coffee might just be the most famous Costa Rican export.
If you've been to Costa Rica, or if you're planning on coming to Costa Rica, one term you should be familiar with is "Pura Vida" (pronounces poo-rah vee-dah). Simply translated, it means "simple life" or "pure life",...