Osa Peninsula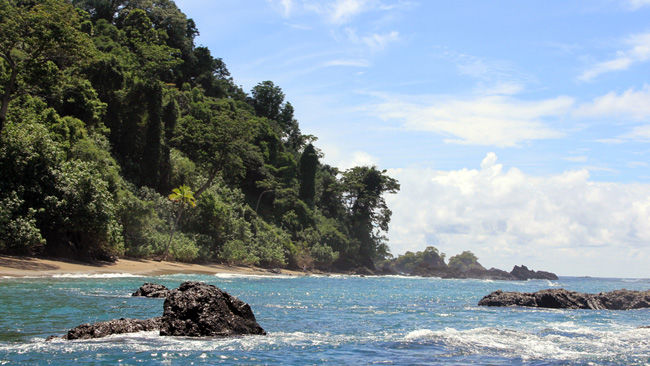 It's said that over 5% of the world's biodiversity can be found in Costa Rica's Osa Peninsula. This biologically rich area is accessible only by plane or boat, which helps prevent the land from becoming spoiled by development. Osa is home to the world famous Corcovado National Park, which National Geographic calls "the most biologically intense place on Earth."  The park is home to some of the most beautiful and interesting animals on Earth like four types of monkey, scarlet macaws, cougars, jaguars, snakes, tapirs, and crocodiles.
The Osa Peninsula has growing number of hotel options, but fortunately the development is closely watched and regulated.  You won't find big resorts or all inclusive mega-hotels, just a few small boutique hotels and eco-lodges.  The main highlight of going to the Osa Peninsula is enjoying the amazing and untouched natural beauty, and the hotels in the area make that the main attraction as well.
Highlights
Cano Island resides 7 miles off the coast and is a marine park, offerring some of the best snorkeling and diving
There have been over 40 IGFA world records caught within 80 nautical miles of the Osa  Peninsula.
Several of the country's best fishing lodges are located in the Osa.
Lapa Ríos is a vibrant eco-lodge where your meals are customized.
At Aguila de Osa you can learn all about friendly eco-practices.
Take a boat tour and if you're lucky you might run into the whales that come to the area yearly.
comments powered by

Disqus