Guanacaste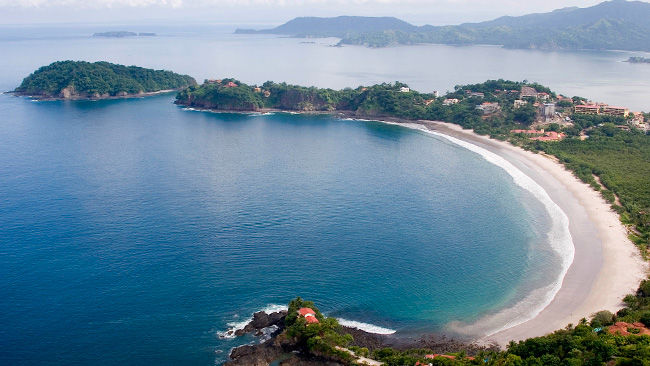 The northwest Pacific Coast of Costa Rica, known as Guanacaste, is the country's hottest and driest region. It receives just 65 inches of rain a year and one can enjoy hot and sunny weather every month of the year. Due to its idealistic weather and beautiful beaches this is also becoming the most popular region for tourists and beach goers. In recent years several high end resorts have been built like a Westin, JW Marriott, and RIU – not to mention one of the best Four Seasons in the world.
Besides the beautiful beaches, what attracts fisherman here is the excellent, year round in-shore fishing and proximity to spectacular deep sea fishing. This is the most western point of Costa Rica, so the continental shelf and deep waters are only a quick 30 minute run away. That of course means less sitting and more fishing for you! With a rocky, volcanic coastline and several islands that are abundant with marine life this is also an ideal spot for in-shore fishing.
Tamarindo has quickly become one of Costa Rica's most popular beach towns and continues to grow with new restaurants, hotels, and condos every year. It is also one of the top two surfing beaches in Costa Rica. If billfish is your game you are only a quick 30 minute run out to deep blue Pacific waters where you can raise several sailfish in one day as well as big marlin. These waters also typically produce the largest and most numerous yellow-fin tuna between the months of May to September. We've seen a couple come in at over 250 lbs – that's a lot of sashimi! Though Tamarindo has amazing deep sea fishing mere minutes away from its shore, the in-shore fishing doesn't fall far behind. Whether you are fishing for snapper and grouper at "The Reef", an underwater volcanic reef, or fishing for wahoo and roosterfish at the Catalina Islands the action is always good. One of the highlights of fishing here is bringing your catch back to one of the restaurants right on the beach and eating it for dinner just a few hours later.
The nearby Gulf of Papagayo to the north is more tranquil and less-developed than Tamarindo. Small towns like Ocotal, Playa Hermosa, and Playas del Coco haven't lost their small fishing town feel yet even as modern hotels, grocery stores, and condos sneak in. From here you can fish the Catalina Islands to the south or go north and fish along the gorgeous shorelines of the Santa Elena National Park. Some of the hot spots for in-shore fishing just minutes from the mooring are Punta Gorda, the underwater reef of Las Barras, and the several islands inside the golf where wahoo, huge roosterfish, and even sailfish are found. Should you decide to venture out of the gulf to chase yellow-fin tuna or marlin you'll only be about 40 minutes away. Being one of the last stops before the Nicaraguan border, this is one of the best spots to catch marlin on their yearly migration.
Guanacaste is subdivided into smaller cantons that have become some of Costa Rica's most popular destinations. Because of its extensive area, Guanacaste houses unique travel options; whether it's an intimate getaway or an all-inclusive resort, this province might be one of the few that truly has it all.
Highlights
The Rincón de la Vieja National Park is the local pride, harboring more than 300 different animal species including quetzals, eagles and jaguars.
The Liberia International Airport now offers more and more direct flights to several international destinations.
Weather in Guanacaste is fairly easy to predict with November to April being sunny and warm often leading to people calling the area "the gold coast".
The Nicoya festival is the perfect opportunity to see and try traditional Costa Rican practices, including ox-carts and ethnic food.
You can plan an entire vacation around all of Guanacaste's most popular beaches, despite being in the same province, all of them have distinctive traits.
comments powered by

Disqus