Arenal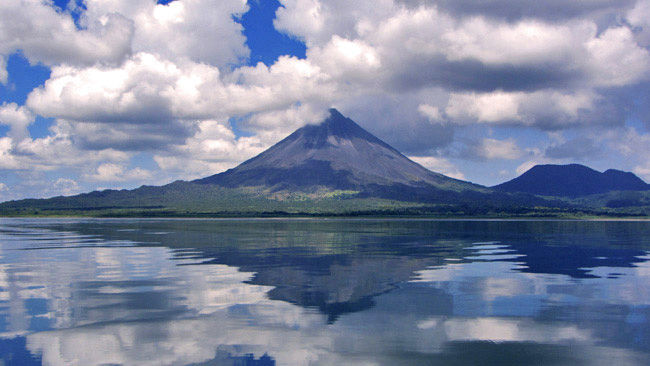 Three hours north of San Jose lies Costa Rica's biggest and most active volcano, Arenal. The imposing silhouette stands over the small town of La Fortuna where many hotels took advantage of the free lava shows and were built so you can watch them right from your room at the hotel. Though quiet in recent years, it's frequent and spectacular eruptions, along with the plethora of eco and adventure tours in the area, have made Arenal a major tourism destination.
As impressive as the Arenal Volcano is, it is the lake that is starting to gain a reputation among freshwater fisherman. Lake Arenal was formed when a dam was built in 1978 to provide inexpensive hydro-electricity to Costa Rica and neighboring Nicaragua. Originally just a marshy lowland, the 33 square mile lake is now the largest lake in Costa Rica. Fed and sustained by numerous rivers coming down from the mountains and surrounded by the Arenal and Tenorio Volcano National Parks, Lake Arenal is truly a freshwater fisherman's dream. A morning spent fishing on this beautiful lake while listening to the howler monkeys in the surrounding rain forest – all the while the Arenal Volcano looms in the backround – makes for an unforgettable fishing experience.
Without a doubt the main target of anglers on Lake Arenal is the guapote, or rainbow bass. Originally found only in South America, the guapote naturally made its way to Costa Rica and now are found in huge numbers on the lake. Besides its brilliant colors, the guapote is a ferocious fighter and makes for one of the best tasting meals you will ever find. Not to be outdone, the always bitey machaca, mojarra, tilapia, and tiger bass also offer great fishing year round.
The general consensus of experienced fisherman on the lake is that using crank baits and surface poppers is most effective in the morning and late afternoon. As always river mouths and structures like fallen trees are great spots to start. When the tropical sun heats things up mid-morning most people generally switch to trolling the deeper, cooler waters where the big guapote retreat to. Fly fishing is also productive on Lake Arenal as the machaca, often nicknamed 'mini tarpon', are always quick to hit a dry fly and put on a great aerial show once hooked.
Since 2010 the volcano's activity decreased but that doesn't mean Arenal isn't still one of the most beautiful areas in the country. The town of La Fortuna is a charming destination surrounded by modern spas, resorts and boutique hotels. Arenal also became a must for those seeking adventure, given that its rugged terrain has made it the ideal location for canopy, canyoneering and rafting.
Highlights
Lake Arenal is an artificial lake ideal for kayaking and fishing.
The town of La Fortuna is a perfect spot to see traditional Costa Rican practices.
Although you can't climb up the volcano, you can go on a hiking tour in the adjacent forests.
Because of its volcanic soil, Arenal is known for its exotic vegetation and rich produce.
Arenal National Park is home to another volcano: Cerro Chato, known for the lagoon that formed on its crater.
comments powered by

Disqus