Careers
Costa Rican Vacations is part of the Namu Travel Group.  We are Central America's largest online travel agency and have been in business since 1999.  If you want to become part of a dynamic company with growth opportunities and a fun, relaxed environment, apply to become part of our team. We are passionate about serving customers and creating unforgettable experiences. We achieve this by hiring great people who view this career as more than just a job.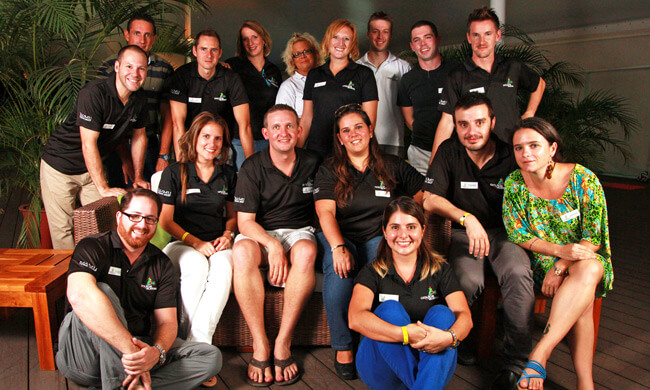 Marketing Assistant Wanted
Take pride in the work you do and want to join a seriously casual travel company?
Brand Ambassadors: We are here to make sure that every potential client that interacts with our customer experiences the highest quality of service.  So you will need to be passionate about being communication, marketing and interacting with others.  Our team is made up of passionate people that bust down barriers to get results that exceed expectations
Seriously Casual atmosphere: A fun family and casual environment (so the suit is not necessary) where we work hard and play hard.  Relax in our games room, where you can play ping-pong or have a meeting over a game of Jenga.
Salary: We reward great performance; we offer a competitive salary as well as lots of parties and fun throughout the year.
Become a hotel snob: We need you to know luxury hotels, so we will send you there as a guest!!
Responsibilities:
Develop marketing qualification strategies for potential clients

Develop methods & materials to increase interaction with our brand

Analyze and segment data

Communicate with clients through a variety of mediums

Set appointments for clients to speak to sales team

Become a brand ambassador to improve company profile across social media

Generate new business opportunities

Qualify prospects/leads using a variety of mediums (telephone, e-mail, FB, Twitter, LinkedIn, etc) and pass these to an appropriate Travel Consultant

Meet or exceed goals on a weekly, monthly, quarterly and yearly basis
Requirements:
100% proficiency in speaking, reading and writing in English (C1 Level)

Bachelor Degree preferred but not required

High School Diploma or GED

Experience in a sales, marketing or customer service position preferred but not required

Intermediate level knowledge of Costa Rica

Outstanding communication skills, both verbal & written

Proficiency in Microsoft Office

Ability to work independently as well as part of a team

Self motivated individual with a history of success

*Availability to work on weekends

Knowledge of the Costa Rican Tourism Industry a plus
Come be an Ambassador for Namu Travel Group (Costa Rican Vacations, Panama Vacations & Nicaragua Vacations) in Latin America and help us make sure that people on vacation have the time of their life and keep coming back with us.
If you are passionate about Costa Rica (this is more than just a job), have advanced English spoken and written skills, and are looking for a successful career, please send your resume to jobs@namutravel.com