Careers
Costa Rican Vacations is part of the Namu Travel Group.  We are Central America's largest online travel agency and have been in business since 1999.  If you want to become part of a dynamic company with growth opportunities and a fun, relaxed environment, apply to become part of our team. We are passionate about serving customers and creating unforgettable experiences. We achieve this by hiring great people who view this career as more than just a job.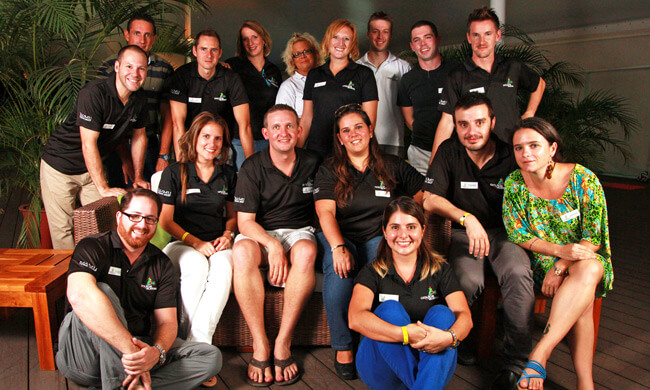 Senior Online Content Editor Wanted
Take pride in the work you do and want to join a seriously casual travel company?
Brand Ambassadors: We are here to make sure that every potential client that interacts with our customer experiences the highest quality of service.  So you will need to be passionate about being communication, marketing and interacting with others.  Our team is made up of passionate people that bust down barriers to get results that exceed expectations
Seriously Casual atmosphere: A fun family and casual environment (so the suit is not necessary) where we work hard and play hard.  Relax in our games room, where you can play ping-pong or have a meeting over a game of Jenga.
Salary: We reward great performance; we offer a competitive salary as well as lots of parties and fun throughout the year.
Become a hotel snob: We need you to know luxury hotels, so we will send you there as a guest!!
Responsibilities:
Check constantly and on an ongoing basis all content to find and resolve content errors
Schedule content
Write, produce and curate content
Edit and put content on website, newsletters and other mediums deemed suitable by Namu
Ensure that keywords required for SEO are strategically and tactically aligned
Work to ensure company aesthetic is met and maintained
Schedule video in conjunction with head of VP
Creating copy for email campaigns and adverts
Requirements:
Native English Level (C1Level)
Bachelor degree in Marketing or a related field
Intermediate experience in a similar position (recently)
Strong organizational skills
Ability to work to deadlines
Knowledge of the Costa Rican Tourism Industry is a plus
Come be an Ambassador for Namu Travel Group (Costa Rican Vacations, Panama Vacations & Nicaragua Vacations) in Latin America and help us make sure that people on vacation have the time of their life and keep coming back with us.
If you are passionate about Costa Rica (this is more than just a job), have advanced English spoken and written skills, and are looking for a successful career, please send your resume to jobs@namutravel.com
Namu Team's Testimonials:
The environment is enjoyable; you get the opportunity to visit places that otherwise you wouldn't even dream of.   If you consistently perform, you are rewarded. You have the opportunity make people's travel dreams come true.
The positive attitude of my coworkers inspires me to come to the office everyday
The office is nice, fresh, with amenities for employees and it also offers a small and comfortable environment where everyone can contribute. Having the opportunity to know beautiful places in Costa Rica is definitely a plus.